Kourtney Kardashian Surprises Boyfriend Younes Bendjima with Lavish Birthday Trip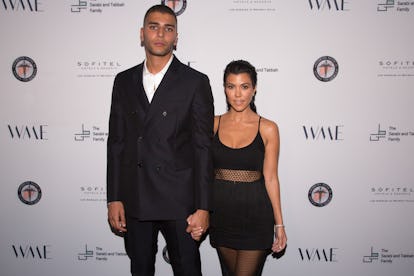 Gabriel Olsen/Getty Images
It seems Younes Bendjima has achieved the final step in full Kardashian-Jenner integration: an over-the-top birthday celebration. Over the weekend, Kourtney Kardashian toasted Bendjima's 25th year (yes, he is 13 years her junior) with a surprise trip that would rival any of the many getaways showcased on Keeping Up With the Kardashians.
Kardashian first marked the occasion with a series of photos of herself and Bendjima from several of the around-the-world adventures they've experienced together over the past few years (camel riding in Egypt, swimming in blue oceans, lounging on various beaches, etc.). Then, the reality star revealed that she was taking him on yet another romantic getaway in honor of his anniversaire, as they call it in his native French.
On Saturday, the 39-year-old mom-of-three whisked Bendjima off in a private jet decorated with mylar "25" balloons. As the pair dined on pasta from Jon & Vinny's in the sky, Kardashian revealed to her followers that her significant other didn't know where they were headed. Surprise! "For once, he has no idea where we're going," she captioned a video of Bendjima settling into the flight.
The final destination, it turns out, was the luxe Amangiri resort in the Utah desert. The hotel is a celeb favorite—you may recognize it as the backdrop in Emily Ratajkowski's honeymoon thirst-trap photos or from Kris Jenner's own birthday party at the resort last November.
While at Amangiri, Kardashian and Bendjima engaged in all kinds of dreamy-looking couple activities, including hiking, rock climbing, walking across a bridge, lounging on a boat, and, of course (because this is Kourtney Kardashian we're talking about) working out.
Bendjima also rapped about not being allowed into the hotel room and playfully dragged his girlfriend by her feet through the hotel hallways, which the other guests at the $5,000-a-night spa undoubtedly appreciated.
Happy birthday, Younes.