Emily Ratajkowski Posts Another Nude Photo From Honeymoon in Thirst-Trap Spree
She went fully nude in her latest photo from her trip.
---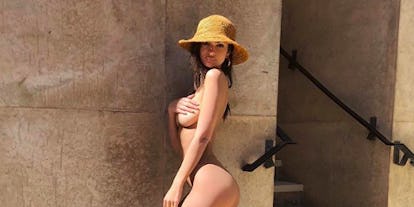 instagram.com/Emrata
Some people might take the opportunity to unplug on their honeymoons, but Emily Ratajkowski isn't one of them. For one, the model and actress announced almost a month ago that she had quietly married her boyfriend of just a few weeks in a low-key courthouse ceremony in New York City. While celebrating her new marriage, Ratajkowski brought her 16.8 million Instagram followers with her to the high-end Utah resort Amangiri, previously seen on the feed of Kim Kardashian.
By the looks of the photos she's shared, Ratajkowski's honeymoon consisted of gorgeous sunsets, dips in a private pool, and a photoshoot with her husband, Sebastian Bear-McClard. Ratajkowski posted pictures from that shoot, confirming that even though her marital status has changed, her thirst-trappy ways never will. In the latest photo, she wears nothing aside from a straw hat. "Posing for my husband like," reads the cheeky caption for the photo, where Ratajkowski cleverly censors her body.
While she's no longer in Utah, Ratajkowski shared her nostalgia for the trip with another nude photo. She posted a picture of herself sprawled out nude on a daybed next to a pool outside of her hotel room. "Take me back," she wrote.
Ratajkowski wasn't nude the whole vacation, though, as she made it out into the world clothed to hike Antelope Canyon.
She also wore a swimsuit to watch the sunset alongside a fire pit.
It was Zara, however, that Ratajkowski wore when she got married to Bear-McClard on February 23. Instead of a traditional white dress, she opted for a veiled black hat and a '70s-throwback mustard pantsuit by the fast fashion company.
Ratajkowski recently addressed her fondness for sharing nude and barely clothed posts on Instagram, telling Vogue UK, "I'm not sick of talking about it actually – believe it or not. I'm sick of certain angles of talking about it, but I'm not sick of talking about feminism. If anything, I wish the conversation was more wide-ranging rather than the same, 'How do you have an Instagram with lots of bikini snaps and still call yourself a feminist?' I'm like, that's the kind of question I'm sick of answering, but I'm not sick of feminism or Instagram."