Are Kourtney Kardashian and Her Boyfriend Younes Bendjima Okay?
Kourtney unfollowed her boyfriend on Instagram, but what does it all mean?
---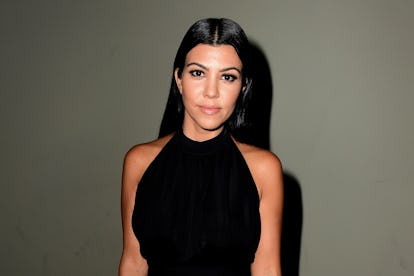 Frazer Harrison/Getty Images
Leave it to the Kardashians to stir up some Instagram relationship drama at the beginning of the week.
Kourtney Kardashian momentarily removed her account from Instagram on Monday, shortly after unfollowing her model boyfriend Younes Bendjima. Bendjima then reportedly made his Instagram account private just before opening it back up to the public. Hmm….
Kardashian and Bendjima met during Paris Fashion Week in 2016, when he reportedly served as a translator between the Kardashians and French police during the traumatic hotel robbery of Kim Kardashian. At 24 years old, Bendjima is 14 years younger than his girlfriend, a discovery that Scott Disick, Kourtney's on-again-off-again ex and father of her three children, was not pleased to make during a January episode of Keeping Up With The Kardashians.
For nearly two years, there has not been any major detectable drama between Kardashian and Bendjima, but could it be that Kardashian's admission to considering freezing her eggs might have shaken him up a bit? In a recent episode of Keeping Up, Kardashian discussed her interest in cryopreservation, and her sister Khloé insinuated she was "thinking about a younger guy," but in October during the season 14 premiere of Keeping Up With The Kardashians, she acknowledged she would consider having more children with Disick.
If you bring up a magnifying glass to all of the other Kardashian-adjacent family members and their follow to follower ratio, none of the other siblings follow Bendjima on Instagram, but maybe they never did in the first place. And even though the couple followed each other right back, what is the point of going through the trouble of unfollowing, deleting, privatizing, then reactivating their Instagram accounts if there is nothing but smooth sailing in the relationship?
Some eagle eyed fans have also realized that Disick does not follow his 19-year-old girlfriend Sofia Richie on Instagram, but that she still follows him, so everything might just be alright with those two, even if the entire family is still not fully on board with the fact that Disick is dating someone younger than the youngest Kardashian-Jenner sibling.
In any case, Kourtney has been gallivanting around Japan for the past few days with her sisters Kim and Khloé—as evidenced on her Instagram, she seems to be doing just fine without her boyfriend for right now.
Related: How Younes Bendjima Went From Male Model to Kourtney Kardashian's Man