It's Curious That Kim Kardashian Said She "Doesn't Judge" Scott Disick For Dating Sofia Richie
Scott Disick was forced to confront his relationship with 19-year-old Sofia Richie on Sunday's episode of Keeping Up With the Kardashians.
---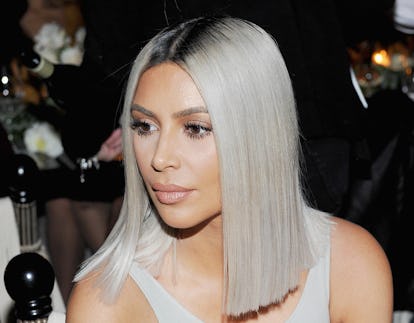 Photo by Donato Sardella/Getty Images for The Tot
On Sunday night's mid-season return of Keeping Up With the Kardashians, Scott Disick was forced to confront his relationship with Sofia Richie, and the family remained shockingly calm about the fact that he is dating a girl who is just 11 years older than his son Mason.
In the episode, Kris Jenner grilled Disick about his dating life, asking if he's dating one person in particular and asking if that particular person is Sofia Richie, just before adding, "How old is she? Because I really don't know. Is she Kylie's age? 20?" Lest anyone forget, Disick is 34 years old and Richie is 19—a full year younger than Kylie Jenner. The matriarch appeared to be nonplussed about Disick's choice to date someone younger than his youngest (for all intents and purposes) sister-in-law, especially after Disick reminded her that she was 17 when she met her first husband, Robert Kardashian, who was 12 years her senior. To call the entire exchange awkward would be an understatement.
Even Kim Kardashian appeared to give her blessing, telling the camera in her confessional, "I've started to see pictures of Scott running around New York and whatever makes him happy, I don't judge, I don't care." She went on to say, "I think it's a good thing. I just hope that he's making good choices and having fun and nothing's getting crazy." That's an interesting take to hear from Kardashian, who once called Disick "desperate" for romping around Cannes with a then 19-year-old Bella Thorne, just months before he began dating Sofia Richie.
At this point, Kardashian probably has just reached total saturation with the entire mess and couldn't care less, or maybe it's because Richie was once in the Kardashian-Jenner inner circle many moons before she started dating Disick. Still, even a media-trained Kardashian stamp of approval on this man's relationship with a 19-year-old doesn't mean the drama stops there—we can rest assured knowing there is still at least one sibling who seemingly does not approve of the fact that Disick is dating someone younger than their youngest sister. Just a week ago, Kendall Jenner may have started some equestrian-related drama with Richie, just after commenting "awww scott and his kids" on a photo of the two posted by a Scott Disick fan account, clearly digging into the 15 year age difference between the couple.
Related: Untangling the Twisted Web of Scott Disick and Sofia Richie's Relationship