Karlie Kloss Is Engaged to Joshua Kushner
Now, about the wedding guest list...
---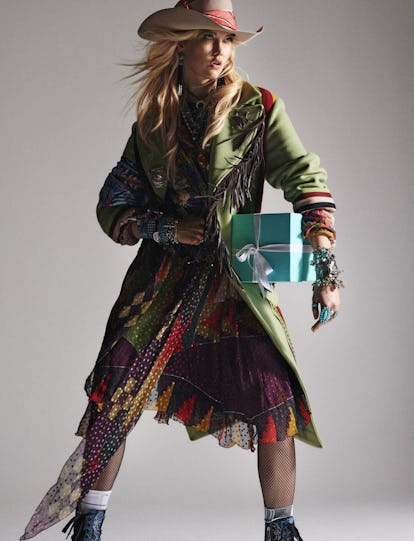 Photograph by Theo Sion; Styled by Max Pearmain
Karlie Kloss and Joshua Kushner have kept their relationship mostly under wraps for the past five years, but today they went public in announcing their engagement.
Kloss shared the news with a rare selfie of the two of them and the caption, "I love you more than I have words to express. Josh, you're my best friend and my soulmate. I can't wait for forever together. Yes a million times over ?"
Earlier this year, Kloss opened up about making her relationship with Kushner more public to W, saying, "I don't think there's been a change—it's more just sharing more parts of my life," adding that he's a "big part" of her life. "I'm incredibly busy, but I love what I do, and my boyfriend's incredibly busy, but he loves what he does, too," Kloss said. "I think it's important to make time to be with your loved ones—to work hard, play hard. That's the way I live my life."
Just a few months ago, though, Kloss declined to comment on their relationship in an interview with The New York Times. "My relationship has nothing to do with this interview," she said.
A couple of weeks later, though, Kloss gave a reason why she doesn't talk about her relationship with Kushner, the managing partner of investment firm Thrive Capital, more often. "It's not like I've ever wanted to be so secretive about my private life. Carolina Herrera always says, 'A woman who's an open book is boring,'" she said. "There's no mystery anymore. I know in my life what really matters to me. I'm not trying to hide that from the world; I just really like having a more private private life. I've got nothing to hide, though!"
One reason she possibly hasn't talked more about her relationship with Kushner could be the political complexities of doing so. Kloss has been vocal about her own beliefs, including supporting March for Our Lives and the 2018 Women's March. She also came out in support of Hillary Clinton in the 2016 election, sharing a photo of herself filling out a voting ballot with the caption, "One of the greatest privileges we have as Americans is a voice. I'm proud to say I did my part, now it's your turn. ? ?? #ImWithHer." Blending families is never easy, but considering the brother of Kloss's fiancé is Donald Trump's son-in-law, their union is going to make for some interesting holidays. Whatever the case, given all of Kloss's famous friends, the wedding should have quite the guest list.
Related: Karlie Kloss Is Still the Only Supermodel Around Who'll Bake You Cookies