Karlie Kloss Explains Why She Keeps Her Relationship With Joshua Kushner So Private
"I've got nothing to hide."
---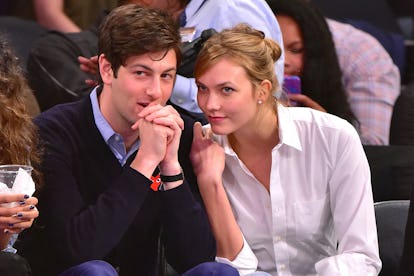 James Devaney/Getty Images
Karlie Kloss has been dating Joshua Kushner for more than five years—but you wouldn't know it from her Instagram posts. The duo only make rare appearances on each other's social media feeds, and Kloss has veered away from giving too many details about their relationship in interviews over the years. But in her cover interview for the Summer 2018 issue of Porter magazine, Kloss explains why exactly she's been so tight-lipped about her and Kushner's long-term relationship, and why she won't be opening up about it anytime soon. Hint: It doesn't have much to do with the fact that Kushner's brother Jared is a member of the Trump administration.
"It's not like I've ever wanted to be so secretive about my private life. Carolina Herrera always says, 'A woman who's an open book is boring,'" she said, according to Entertainment Tonight. "There's no mystery anymore. I know in my life what really matters to me. I'm not trying to hide that from the world; I just really like having a more private private life. I've got nothing to hide, though!"
In another rare moment last summer, Kloss, 25, gushed about Kushner, the cofounder of health insurance tech company Oscar and brother of Donald Trump's son-in-law Jared, on Instagram in honor of his 32nd birthday. "My atoms love your atoms, It's chemistry. — @atticuspoetry ❤️???❤️ Happy birthday to my best friend and partner in crime. The past 5 years of our adventures together have been some of the best memories of my life. I love you @joshuakushner," she captioned a photo of the two of them.
Later in the new issue of Porter, which will be available online and in stores on April 6 (though Kloss appears to have found an advance copy at her local grocery store), the supermodel went on to describe how living such a whirlwind life has taught her to hold tightly to the most meaningful relationships in her life. "I've built really amazing friendships—some that last, some that don't," she said, per ET. "A couple have become some of the most important relationships in my life. In particular, those I've been in the trenches with, such as Jourdan Dunn, Joan Smalls, Toni Garrn, and Lily Aldridge. We started as girls and we've grown up together, and I know if I need anything, I can call them up and they will be there for me, just like my friends from kindergarten."
Related:http://www.wmagazine.com/story/emma-roberts-pink-hair