Tech Nerds, Like Serena Williams' Fiancé Alexis Ohanian, Have Never Been More Desirable
Silicon Valley is out to disrupt everything. Including celebrity dating.
---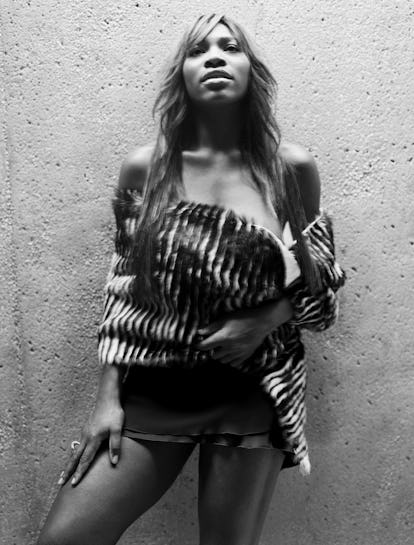 Serena Williams didn't announce her recent engagement not with a People magazine exclusive, a classy announcement in The Times or a low-key confirmation from her publicist. Instead, she took to the "I Said Yes" subreddit to publicly share the details. The post was accompanied by an illustration of Williams and her hubby-to-be in the style of Reddit's alien mascot "Snoo." Williams identified herself as the "Future Mrs. Kn0thing," a reference to her fiancé's Reddit username.
It wasn't even the nerdiest celebrity engagement announcement in recent memory.
That might have been Victoria Secret's Supermodel Miranda Kerr. She announced her engagement simultaneously on Snapchat, Twitter and Instagram. A photo of her ring was overlaid with a Bitmoji image of her Kerr and her fiancé.
So, apparently geeky announcement illustrations are now a requirement among celebrity brides, but that's not the only thing Williams and Kerr have in common. Both of the men they said yes to are tech entrepreneurs. Kerr is engaged to Snapchat co-founder Evan Spiegel. Williams said yes to Reddit co-founder Alexis Ohanian.
Silicon Valley titans are out to disrupt everything, and, apparently, that includes celebrity romance as well.
Aside from geeky, social media engagement announcement, the biggest trend seems to be having a techy boyfriend in the first place.
Karlie Kloss, a tech nerd in her own right (in addition to championing the cause of girls in computer coding, she'll also be a correspondent on Bill Nye The Science Guy's upcoming Netflix show), has been quietly dating Venture Capitalist Joshua Kushner for over four years now. Kushner also tried his hand once at founding his own social network, Vostu. That didn't really take off, but his investment firm Thrive Capital is, well, thriving. (Yes, he also happens to be the brother of Ivanka Trump's husband Jared Kushner).
Actress Emma Watson still seems to be quietly dating William "Mack" Knight. He describes himself a tech entrepreneur who is currently a senior manager at Medallia Professional Services. Incidentally, Watson is starring in the upcoming film The Circle, a dystopian thriller that explores the evil sides of a fictional Silicon Valley mega-company.
Girls star Allison Williams is the bride of Ricky Van Veen, a prolific tech entrepreneur and one of the co-founders of College Humor.
How to Instagram Your Engagement Like a Celebrity
We hope that Evan Spiegel didn't propose to Miranda Kerr with a Bitmoji.

Photo by @mirandakerr.
Knowing Kim Kardashian, she might have posted on Instagram before she said yes to Kanye West.

Photo by @kimkardashian.
Chrissy Teigen took this opportunity to advertise her new swimwear line.

Photo by @chrissyteigen.
Ciara and Russell Westbrook let the world know that they complete each other.

Photo by @ciara.
Lady Gaga kept it sweet and simple, for once.

Photo by @ladygaga.
Lance Bass made sure you couldn't miss the ring.

Photo by @lancebass.
Bar Refaeli focused on what mattered: her beau.

Photo by @barrefaeli.
While Beyoncé focused on the fruits of her marriage.

Photo by @beyonce.
Even though Nicki Minaj has a loud manicure, nothing can distract from Meek Mill's massive ring.

Photo by @nickiminaj.
Hannah Bronfman made everyone green with envy.

Photo by @hannahbronfman.
Lauren Conrad found the perfect pair for her ring.

Photo by @laurenconrad.
Kelly Osbourne put the holy in matrimony.

Photo by @kellyosbourne.
Of course, it's not just celebrity women who have expanded their dating circles to the tech elite enclaves of San Francisco Bay.
Alex Rodriguez, the former Yankee who has been linked to everyone from Cameron Diaz to Madonna, is currently smitten with Anne Wojcicki. She's not only the founder of Silicon Valley-based personal genomics and biotech company 23&Me (you know the one where you spit in a tube and it tells you what your heritage actually is), but she's also the ex-wife of Google co-founder Sergey Brin. Notable, Brin, Wojcicki and Rodriguez all rode together in the same car to this past year's tech-savvy edition of the Met Ball.
Then there were those rumors that Elon Musk may have been dating a post-divorce Amber Heard, though it turns out that might not have amounted to much. However, Musk, the SpaceX and Tesla founder, has been married and divorced two separate times now to British actress Talulah Riley. She's not exactly a household name on our shores, but you might remember her as "Angela," one of the hosts on Westworld. Her character was the one that first welcomed William to the park, and people thought looked sort of like Ivanka Trump.
It seems that every era has its ideal status boyfriend. In the past, they've been everything from European nobility to investment bankers and Greek shipping heirs to Hollywood execs. Because it's increasingly Silicon Valley's world and the rest of us are just living in it, it only makes sense some of the world's most eligible bachelorettes find themselves pairing off with tech enthusiasts. Apparently, there's just something irresistible about those techies. Maybe it's all those cute illustrations.
The Best Celebrity Engagement Rings, From Elizabeth Taylor's Massive Sapphire to Meghan Markle's Cluster of Diamonds
Elizabeth Taylor with her wedding ring, a massive sapphire encircled with two rows of diamonds. Photo by New York Daily News Archive via Getty Images.
Jennifer Lopez flashes her engagement ring to Ben Affleck in 2003. Photo by Kevin Winter/Getty Images.
Grace Kelly shows off her engagement ring to Jimmy Stewart on the set of Rear Window. Photo by John Kobal Foundation/Getty Images.
Lady Diana Spencer, pre-Princess Di. Photo by Tim Graham/Getty Images.
Victoria Beckham in 2007. Photo by Tony Barson/WireImage.
Beyoncé reveals her engagement ring at the U.S. Open in 2011. Photo by Getty Images.
Anne Hathaway's ring is on display at the Iron Lady premiere in 2011. Photo by Getty Images.
At the Women in the World Summit in 2013, Angelina Jolie shows off her engagement ring with Brad Pitt. Photo by Getty Images.
Olivia Wilde at the premiere of Drinking Buddies in Hollywood, California, August 2013. Photo by Getty Images.
Scarlett Johansson's high-wattage engagement ring glitters at the Don Jon premiere in 2013. Photo by Taylor Hill/FilmMagic.
Kim Kardashian offers a glimpse of her engagement ring to Kanye West in 2013. Photo by Jason LaVeris/FilmMagic.
Chrissy Teigen got engaged shortly before the Billboard Music Awards in 2015. Photo by Getty Images.
Allison Williams's engagement ring, at a Girls screening in 2014. Photo by Getty Images.
Taylor Kinney proposed to Lady Gaga with a heart-shaped diamond, which she showed off at a screening of American Horror Story: Hotel in Los Angeles, California, October 2015. Photo by Getty Images.
Another royal—here, Catherine, Duchess of Cambridge, in 2015—with another decadent engagement ring. Photo by Max Mumby/Indigo/Getty Images.
Jennifer Connelly boasted an art deco-inspired ring from husband Paul Bettany in 2016. Photo by Getty Images.
Julianne Hough does double duty with an engagement ring and a midi-ring twist at the NHL All-Star Party in Pasadena, California, January 2016. Photo by Getty Images.
Amal Clooney at the premiere of Hail, Caesar! in Los Angeles, California, February 2016. Photo by Getty Images.
Kate Upton made sure her ring got its share of the spotlight at the Met Gala in May 2016. Photo by Getty Images.
Ditto for Ciara, who showed off a ring from Russell Wilson. Photo by Getty Images.
A close up of the engagement ring given to Meghan Markle before she became the Duchess of Sussex. Markle and Prince Harry posed for photos after announcing their engagement at The Sunken Gardens at Kensington Palace on November 27, 2017 in London, England. Find out everything we know about the ring here.

Chris Jackson
Victoria's Secret model Devon Windsor announced her engagement to her boyfriend Johnny Dex via Instagram, and showed off her ring on June 24th, 2018. Photo courtesy of Instagram.
Hailey Baldwin's engagement to Justin Bieber was confirmed on July 9th. Hailey is seen here stepping out wearing her new engagement ring. Photo courtesy of Instagram.