Chrissy Teigen is Pregnant with Baby Number Two
She made the announcement on Instagram.
---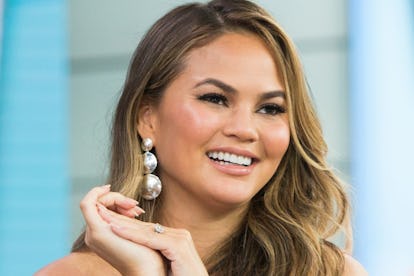 Chrissy Teigen may be one of Twitter's power users, but she shared some big news today via Instagram. She's expecting a second child with husband John Legend. Though, it was actually big sister-to-be Luna Simone Stephens who got to break the news. In the Instagram video, Teigen films Luna crawling around and when the child finds her way to Teigen's stomach she asks, "Luna, what's in here?"
"Baby," replies the year-and-half-old Luna.
"It's John's!" read the accompanying caption. As if there was any doubt.
Teigen, never known for holding back, has been public about her desire for a second child recently. When asked by E! News if she one day wanted to have another child at an event in Los Angeles in early November, Teigen revealed she was indeed "working on it."
"I feel good, I feel good, we're still trying…I'm going for I mean hopefully in the next few years because for me I really want to just knock 'em out," Teigen said. "That's my dream, I want to just be pregnant kind of for the rest of my life." She quickly clarified that she meant the "rest of my fertile life."
People also reports that when Legend was recently asked about a second child, he replied "hopefully it will be soon."
Though, when it came to his wife's announcement and assurance that it was his on Instagram, he hopped into the comment section to write, "Maury will have the final word on this."
Legend and Teigen began dating in 2007, and tied the knot in 2013. First daughter Luna was born in April, 2016.
Incidentally, the news broke on the same day that Teigen was named one of the highest earning models in the world.
Related: John Legend on Gender Equality, Harvey Weinstein, and How His Relationship With Chrissy Teigen Changed Him
The Beauty Secrets of Chrissy Teigen and Other Supermodels:
Chrissy Teigen Really, Truly Had the Best Summer of Us All
Luna Simone threw out the first pitch at the Mariners vs. Twins game in Seattle, Washington, June 2017.

@chrissyteigen
John Legend, proud dad, prepares for the first pitch—to be thrown by daughter Luna—at a June Mariners vs. Twins game in Seattle, Washington, June 2017.

@johnlegend
Luna, in a custom Mariners jersey, on the field with parents Chrissy Teigen and John Legend during the game where she threw the first pitch in Seattle, Washington, June 2017.

@chrissyteigen
Legend, Teigen, and Luna make the most of a tour stop in Chicago, Illinois, taking in the Lincoln Park Zoo (with a giraffe for company), June 2017.

@johnlegend
Chrissy Teigen with Luna Simone in Laguna Beach, California, June 2017.

@chrissyteigen
Chrissy Teigen traveled to Boston to wish John Legend a happy Father's Day while he was on tour, June 2017.

@chrissyteigen
John Legend with a very curious Luna Simone in Bali, July 2017.

@johnlegend
The whole family traveled to the Indonesian island of Bali, trying out some traditional looks along the way, July 2017.

@chrissyteigen
Teigen with her daughter Luna in Bali, July 2017.

@chrissyteigen
Teigen played paparazzi to her husband and daughter when they stopped in Lake Como, Italy, July 2017.

@chrissyteigen
Next stop, Venice, Italy, where Teigen has been Instagramming her (it bears saying, impossibly chic) adventures with her daughter, August 2017.

@chrissyteigen
The best mother-daughter dates are the ones on the pedestrian streets of Venice, as Luna and Chrissy Teigen demonstrate all too well.

@chrissyteigen