John Legend on Gender Equality, Harvey Weinstein, and How His Relationship With Chrissy Teigen Changed Him
"We want the world to be better."
---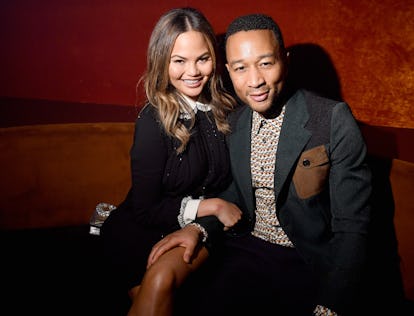 Victor Boyko/Getty Images
John Legend and Chrissy Teigen are perhaps social media's most savvy—and outspoken—couple. But mind you, their openness about their life together is far more than just for Instagram.
Legend, who has partnered with AXE on the men's grooming company's Find Your Magic Initiative, told W that both he and his wife feel that their platforms come with an obligation to act as positive forces for change. "[Speaking out about issues] is just a natural part of who we are and and how we think about the world, and we're in a position of influence," he said. "We just want the world to be better. We want a more loving, free and just world. And if we see something we want to speak out about it, regardless of how we might that might look [to the world]."
Legend, for his part, is working with AXE to advocate for gender equality and help break the cycle of "toxic masculinity," by mentoring high school students at Centennial High School in Columbus, Ohio, near the singer's own hometown. Several students, under Legend's guidance, performed at the initiative's "Senior Orientation" event Tuesday, where Legend spoke to his message of the importance of confident self-expression. "[The idea behind the campaign] is thinking and living beyond the restraints of what it means to be a man," Legend said. "Young people are just trying to figure out who they are."
Teigen, meanwhile, has of late been vocal about everything from body image, to her decision to cut back on her alcohol intake, to her challenges with fertility—with Legend acting as support system through it all.
"A lot of being in a relationship is about empathy," Legend said of how his own identity shifted after becoming a husband and father. "When you're younger, and this goes for men and women, but in my experience as a young man, a lot of what you're doing is selfish. When you open yourself to being in a loving relationship, you have to do more listening. There's a sense of being on the same team."
Of course, that goes for more than just his own relationship. Legend also mentioned that men supporting women is especially vital in light of the dozens of accusations of sexual assault and harassment against Harvey Weinstein (and other powerful Hollywood players) that came to light following reports from The New York Times and the New Yorker. "These stories about Harvey are awful and despicable," he said. "But maybe the silver lining, if there is one, is that more women are speaking out about their experiences. As men we need to listen and support them."
Legend also hopes to pass lessons of gender equality down to his daughter, 18-month-old Luna. Though he notes that it's easy to fall into social conventions like dressing boys in blue and girls in pink, "you have to be mindful of not limiting [kids] based on gender." "I think we just encourage her to be bold and be an independent thinker. But you also want her to behave!" Legend said, laughing. "I think we're always going to be dealing with that, wanting her to be bold and independent but also balancing that with good behavior."
Related: Chrissy Teigen Really, Truly Had the Best Summer of Us All
"Women's Rights Are Human Rights": 62 Fashion Insiders Speak Out in a Powerful Video for International Women's Day