Georgina Chapman, Marchesa Designer, is Separating From Harvey Weinstein
"My heart breaks for all the women who have suffered tremendous pain."
---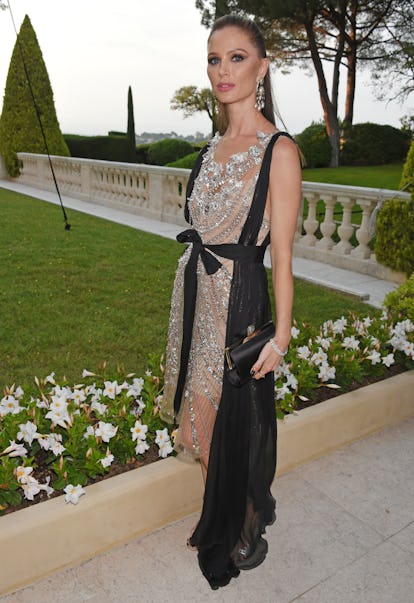 Dave Benett/amfAR2017/Getty Images
Hours after the New York Times broke the story of decades of sexual harassment accusations against film mogul Harvey Weinstein, Weinstein spoke with the New York Post about the fallout. While he spent much of the interview focusing on what he perceived to be the Times's "vendetta" against him—the newspaper has stated it is "confident in the accuracy" of the story, according to Page Six—he also discussed his relationship with his wife Georgina Chapman, the co-designer of Marchesa, in the wake of the story.
"She stands 100 percent behind me. Georgina and I have talked about this at length," he said. "Georgina will be, with Lisa [Bloom] and others, kicking my ass to be a better human being and to apologize to people for my bad behavior, to say I'm sorry, and to absolutely mean it."
But in the days since, the Weinstein camp has begun to crumble. After consenting to take a leave of absence from his company, Weinstein was fired outright; Bloom, his unexpected legal adviser (she is, after all, the daughter of attorney Gloria Allred, best known for representing women's rights cases), resigned; and his wife Chapman announced Tuesday evening she was leaving him.
"My heart breaks for all the women who have suffered tremendous pain because of these unforgivable actions. I have chosen to leave my husband," Chapman said in a statement to People magazine. "Caring for my young children is my first priority and I ask the media for privacy at this time."
When the story broke last week, Chapman was in the midst of presenting the new bridal collections for Marchesa and Marchesa Notte. Her Instagrams from the presentation began to fill up with venomous comments, many of which were promptly deleted. Additionally, on Wednesday, several days after the accusations were brought forward, a planned collaboration between Marchesa and the jeweler Helzberg Diamonds was pulled.
It was inevitable that Chapman's label would be affected by the scandal.
The designer began dating Weinstein in 2004, the same year she founded Marchesa with her college classmate Keren Craig. It quickly became a staple of the red carpet—actresses like Blake Lively, Sienna Miller, Renée Zellweger, and Cate Blanchett all wore Marchesa looks in the late-'00s—thanks in part to Weinstein's influence. As Jezebel reported earlier this week, many have credited the brand's sudden emergence as a Hollywood go-to to Weinstein, who pushed the female stars of his films—Lively, Miller, Zellweger, and Blanchett all wore Marchesa to either Weinstein-produced film premieres or to awards ceremonies while they were appearing in a Weinstein Company or Miramax movie—to wear the gowns designed by his girlfriend, soon to be his wife. (Chapman and Weinstein married in 2007 and have two young children.)
"He was the mastermind behind Marchesa—orchestrating deals and using his influence in terms of the celebrity connections for her on behalf of the brand," one publicist told the Hollywood Reporter earlier this week.
Alyssa Milano, who appears with Chapman on the (Weinstein Company-produced) series Project Runway All Stars (Milano as host, Chapman as judge), spoke out in support of her friend shortly after Chapman made the announcement. (She also noted it was out of deference to Chapman that she had not yet made any statements in support of Rose McGowan, her co-star on Charmed, who has become something of a figurehead for women speaking out against Weinstein in Hollywood.)
"Georgina Chapman is my friend. She is one of the most special humans I have ever met. Harvey and Georgina also have two very young children who my children have known their entire lives," Milano wrote. "It is because of my love for Georgina, India and Dashiell that I haven't publicly commented on this until now. Please don't confuse my silence for anything other than respect for a dear friend and her beautiful children."
Pharrell, Lily Collins, and more read Chanel's most inspiring quotes: