Why Following Rose McGowan on Twitter is the Best Way to Keep Up With the Weinstein Scandal
The #RoseArmy already knows.
---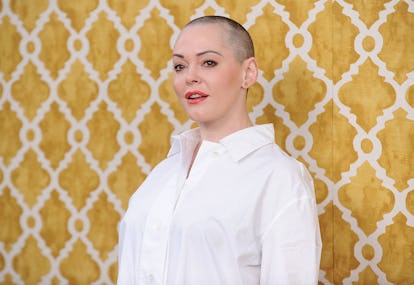 Jason LaVeris/Getty Images
The day before the New York Times bombshell story on the decades of sexual harassment and assault accusations against Harvey Weinstein was published, actress Rose McGowan tweeted, somewhat cryptically, "I want to buy the movie rights." The quip was a reference to a statement Weinstein had released to the Hollywood Reporter in response to questions about two upcoming pieces in the Times and the New Yorker about his alleged sexual harassment.
The actress and filmmaker Asia Argento, who would later be revealed had spoken to the New Yorker about her own experiences with Weinstein, replied, "I own the movie rights." Then, in response to an avid Twitter commenter, excited at the prospect of a collaboration between the two, she continued, "It's gonna be the best movie of the last 20 years."
As it turns out, Rose McGowan's Twitter account may be the best wire service this side of the Associated Press for keeping up with the Weinstein scandal. She has a vested interest.
Twenty years ago, in 1997, when McGowan was just 23, she reached a $100,000 settlement with the Hollywood mega-producer for an "episode in a hotel room during the Sundance Film Festival"—a settlement that was revealed publicly for the first time in last week's Times investigation. But that settlement, which may have also included a nondisclosure agreement (as some of Weinstein's other settlements with women he's allegedly assaulted have), has not prevented McGowan from becoming one of the most outspoken, scathing critics of Hollywood hypocrisy and misogyny in the past week. She's simply substituted Weinstein's name for a damning blank space; in one tweet sent out Tuesday, she wondered, "Now am I allowed to say rapist." (She also noted in another tweet that she donated her settlement to the East Los Angeles Women's Center, a rape crisis center.)
"I have been hiding in plain sight, the panther amongst her prey. Well done for piecing together my clues. It's all in the timeline," she wrote elsewhere. In fact, McGowan has hinted at the allegations several times before, including just last year, when she tweeted, "a (female) criminal attorney said because I'd done a sex scene in a film I would never win against the studio head. #WhyWomenDontReport."
This is certainly not new: McGowan has long been an outspoken advocate for women in Hollywood, and never more so than this week. She's tweeted out the developments in the story—including screenshots of emails sent to her that back up the claims in both reports—with dogged commitment. Shortly after Weinstein was fired by his company, she began circulating a petition calling for the board of the Weinstein Company to be dissolved—something she also demanded in an interview with the Hollywood Reporter on Sunday; in the past day, it has obtained nearly 7,000 of its required 10,000 signatures.
It's even earned her a contingent of followers under the title of #RoseArmy, who already know that the best way to keep up with the Weinstein saga is by following McGowan. (In an interview two years ago, McGowan told Buzzfeed, "I'm assembling an army." Looks like she's had some luck.) At times, her short missives are darkly funny—in one, she simply wrote, "Ben Affleck f–k off"; in another, she posted a photo of Winona Ryder's Heathers character, captioned "Let's do this"—while at other moments, they're poignant and all too real—including a photo of her younger self she has posted, along with the caption "This is the girl that was hurt by a monster. This is who you are shaming with your silence." (Affleck posted a statement to his social media accounts, writing he was "saddened and angry" about the accusations; McGowan was also among several who pointed out that Affleck's own brother, Casey, has been plagued by accusations of sexual misconduct.)
Sometimes, though, even army leaders grow tired of the charge. In that case, McGowan calls on her staunch #RoseArmy to back her up: "Hey All, I'm tired of this twerp. Take him out for me. DRAG @KurtSchlichter," she wrote after she had responded to several of a conservative pundit's tweets. (He has since deleted many of the tweets.)
McGowan's tweets, both the somber ones and the sarcastic, humorous ones, are inevitably energetic and galvanizing; she eagerly engages with Twitter trolls and tweets out her support for women like Ashley Judd and Argento, both of whom participated in the recent Times and New Yorker stories. McGowan isn't the only one taking on the Weinstein Company and Hollywood's silence that protected Harvey Weinstein for decades, but she's certainly one of the new resistance's most outspoken voices.
Margot Robbie dressed up as James Franco's 'Spring Breakers' character for Halloween: