A "Stop Enabling Abuse" Banner Flew Over Hollywood Today, In Response to the Culture That Enabled Harvey Weinstein
The plane was chartered by a women's advocacy group as a direct response to the actions of Harvey Weinstein, and those like him.
---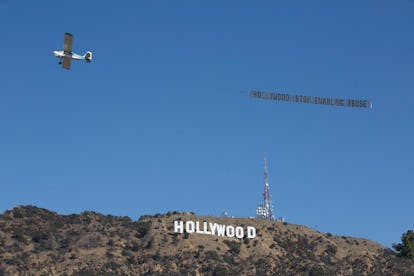 Courtesy of @UltraViolet
Take a moment to remember how we started this year: Just three minutes into 2017, the iconic Hollywood sign was discovered to have been transformed to read "Hollyweed," thanks to the artist Zachary Cole Fernandez, who went viral before he was charged with trespassing.
That was just a matter of months ago, but the latest Hollywood sign stunt goes to show just how much those days seem like simpler times. Unlike Fernandez's so-called art installation, which he intended "to bring light and positivity and happiness," the banner that a plane flew over the Hollywood sign on Tuesday read "Hollywood: Stop Enabling Abuse"—a reminder that the industry seems to need now more than ever.
The message was a call to "believe survivors" and a direct response to "abusers like Harvey Weinstein." In case you haven't heard from Meryl Streep, Judi Dench, Jennifer Lawrence, George Clooney, and increasing onslaught of other A-listers who've been speaking out over the last few days, Weinstein is the Hollywood mogul whom the New York Times exposed last week for having a decades-long history of sexual assault allegations. The New Yorker added to that unfortunate list on Tuesday—the same day that the plane took flight, and that both Gwyneth Paltrow and Angelina Jolie came forward as victims of Weinstein's unchecked abusive behavior.
The plane was chartered, and message written, by the women's advocacy group UltraViolet, which has hardly been lacking in inspiration over the past year. In April, it sent the message "Fox: #DropOReilly, The Sexual Predator" flying over New York and Fox News's headquarters to demand that the network fire its host Bill O'Reilly, whose settlements surrounding sexual assault amounted to $13 million. And just last week, lest we forget that a man repeatedly accused of sexual abuse is currently the president, UltraViolet also set up a truck blaring Donald Trump's infamous Access Hollywood tape on loop in front of the White House, one year after it surfaced.
Weinstein is based in New York, not Los Angeles, but the message is not for—or even about—him. Rather, it's intended for those who were aware of the rumors for years and yet continued to work with Weinstein, or contributed to the toxic environment that makes it so difficult for victims to come forward. It's an issue that is not Hollywood-specific, of course.
"No one should ever get away with sexual harassment," UltraViolet said in a statement, while stressing that confronting the entertainment industry's willingness to cover up decades of sexual abuse was a necessary part of "tackl[ing] rape culture in this country." That process, the group reminded, will not be painless: "Hollywood's silence over Harvey Weinstein shows just how far we have to go before sexual harassment in the workplace is no longer a topic of discussion."
Related: How Tabloids Dragged Ambra Gutierrez Through the Mud After She Accused Harvey Weinstein of Groping Her
"Women's Rights Are Human Rights": 62 Fashion Insiders Speak Out in a Powerful Video for International Women's Day: