Kendall Jenner Dethrones Gisele Bündchen as World's Highest Paid Model, According to Forbes
The supermodel reportedly made $22 million in the past year.
---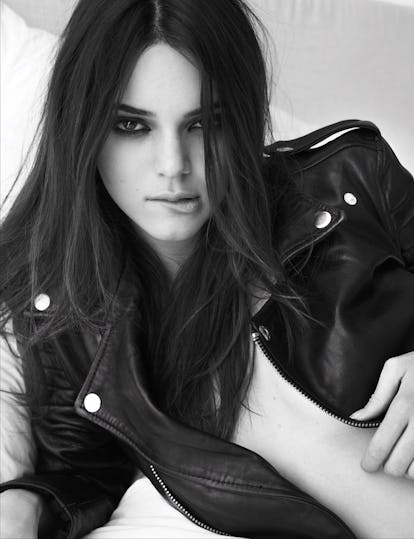 Mert Alas and Marcus Piggott, styled by Edward Enninful.
Since 2002, Gisele Bündchen has topped Forbes' list of the world's highest paid models. As the supermodel officially retired from the runway in 2015, it was only a mater of time until someone came for her crown. That someone, perhaps not surprisingly, is Kendall Jenner. Not only does she have her famous family behind her, but Jenner also has lucrative contracts with lingerie brand La Perla, Adidas Original and cosmetics company Estee Lauder. This year she's also appeared in campaigns for familiar labels like Fendi and Alexander Wang, as well as for overseas companies like Chinese brand Ochirly and the Philippines-based Penshoppe. That's in addition to her own, ever-expanding clothing line with her sister Kylie. Pick up a fashion magazine anywhere on the globe, and she's sure to be in it one way or another (occasionally, as a photographer).
In fact, according to Forbes' estimate, Jenner made $22 million in the past year between her endorsements, modeling work, and her cut of the Keeping Up With the Kardashians profits. It's not quite the money Bündchen made in her heyday, but it is more money than Bündchen is making now. Forbes estimates the Brazilian bombshell, who made over $30 million in 2016, took home about $17.5 million this year. That's thanks to her role as the face of Carolina Herrera's 212 VIP Rosé scent, and has numerous deals in her native country.
The list also includes a few notable firsts. Of course, both Gigi and Bella Hadid made the list, but perhaps it is a bit of a surprise that they're the first siblings to ever appear together. Meanwhile, Ashley Graham is the first ever curvy model to grace the list.
Ashley Graham – $5.5 million
Bella Hadid – $6 million
Liu Wen – $6.5 million
Karlie Kloss – $7 million
(tie) Rosie Huntington-Whiteley – $9.5 million
(tie) Gigi Hadid – $9.5 million
Adriana Lima – $10 million
Chrissy Teigen – $13.5 million
Gisele Bündchen – $17.5 million
Kendall Jenner – $22 million
Keep in mind, the key word here is "estimate." The details of fashion campaign contracts aren't typically a mater of public record, and Forbes says it bases on its numbers on "interviews with numerous managers, agents and brand executives." It's also unclear where they draw a line on who still counts as a model.
Cara Delevingne may have "retired" from modeling, but in the past year she's appeared in two films, signed deals for several more (and a TV series), published a novel, got a shiny new Dior skincare contract, released a song, and appeared in ads for Chanel, Armani Exchange, Puma, Rimmel, Magnum Ice Cream, Burberry, and Jimmy Choo. Yet, she's nowhere on the list.
So take it all with a grain of salt, and whatever the case, all these women, Gisele Bündchen included (if not especially), are doing just fine.
Related: Kendall Jenner Will Never Have Her Own Spinoff, According to Kris
Kendall Jenner Gets Real: "I'm Weird, I Love My Tits Being Out":