Nicholas Hoult Is Officially a Dad
The actor and his girlfriend, model Bryana Holly, secretly welcomed a baby into the world.
---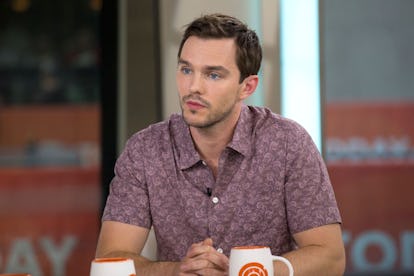 NBC/Getty
It seems like just yesterday that Nicholas Hoult was the kid singing "Killing Me Softly" with Hugh Grant in front of a crowd of smarmy prep schoolers in About a Boy and then became a teen on the E4 series Skins, but, alas, plenty of years have passed. And Hoult is now a 28-year-old adult, and a father. According to People, the X-Men star and his girlfriend, 24-year-old model Bryana Holly, covertly welcomed their first child, though it is not exactly clear when the baby was born.
Hoult and Holly have reportedly been dating for about a year, and the pair kept all pregnancy news private until now. With over 1.7 million followers on Instagram, Holly has held back from posting about her relationship with Hoult, and none of her photos give any indication that a baby was on the way.
Both Hoult and Holly have been in high-profile relationships before and are aware of the importance of keeping their personal lives private. Hoult famously dated actress Jennifer Lawrence for about four years, when they co-starred in the X-Men franchise. Their relationship reportedly ended in 2014, just as Lawrence wrapped her role in the franchise and became one of the busiest and highest paid actresses in Hollywood. Prior to dating Hoult, Holly was romantically involved with Kim Kardashian's step-brother, Brody Jenner, until an argument at the Playboy Mansion reportedly ended their relationship (just when you thought Lawrence would be Hoult's only link to the Kardashians).
Hoult was tight-lipped about his relationship with Lawrence, and he has has scarcely commented on his relationship with his current model girlfriend, save for an interview with Mr. Porter's The Journal in November 2017. "She can put her stuff wherever she likes," Hoult told the reporter when asked if Holly kept a drawer of her own in his room. He added, "I don't feel as though I'm that possessive over things like that," which is promising considering the couple's new baby is going to take up a lot more space than just a drawer in the master bedroom.
Related: Nicholas Hoult Prepared to Play J.D. Salinger By Doing Yoga and Typewriting His Own Short Stories