Jennifer Lawrence Ranked Her Favorite Kardashians, And the Results May Surprise You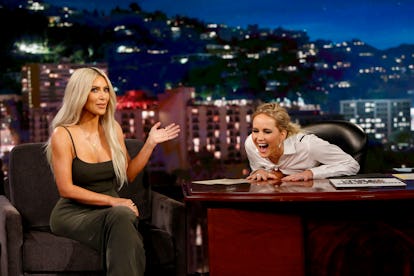 Randy Holmes/ABC via Getty Images
Jennifer Lawrence, connoisseuse of all things Kardashian, is always going to tell us how she really feels.
On Tuesday we shared a definitive guide to the Kardashian-Jenner family rankings as told to Vogue India by Kim Kardashian, but listing favorites is always more fun when it's done by some external party who is not a member of the family. Most celebrities wouldn't play favorites with other celebrities, lest their own reputation be sullied, but self proclaimed reality television aficionado Jennifer Lawrence appeared on Watch What Happens Live! Thursday evening, and in a game of "Plead the Fifth," the Red Sparrow actress broke down her official ranking of favorites in the Kardashian empire.
During her guest hosting stint for Jimmy Kimmel Live!, Lawrence had the chance to interview Kim Kardashian on the late night talk show circuit, so you might think that Kim ranks at the top of Lawrence's list of favorite Kardashians, but surprisingly that was not the case.
After using up her "plead the fifth" option to keep mum on nicknames she gives to fellow celebrities, Lawrence was required to list her official Kardashian power rankings. Kourtney and Kim remain interchangeable at the bottom, followed by Khloé in the middle, then Kendall Jenner inching towards second place, and of course Kris Jenner made it to the top of the list. "The rest I guess they're at the bottom," Lawrence said, after asking if Kanye West technically counts as a Kardashian for ranking purposes (apparently he doesn't because he did not make it on J-Law's list, and neither did Rob).
Kylie Jenner also didn't make the list, but that doesn't mean there's necessarily any bad blood between the two. Later in her Watch What Happens Live! interview, when asked if she had met Stormi or Chicago, Lawrence admitted she has not, but that while the rest of the world was still guessing, she knew that Kylie Jenner was pregnant and didn't say a word to anyone about it.
Related: Jennifer Lawrence Wants to Develop Her Own Reality Television Series