Jennifer Lawrence Wants to Develop Her Own Reality Television Series
Welcome to J-Law's Breakup Island!
---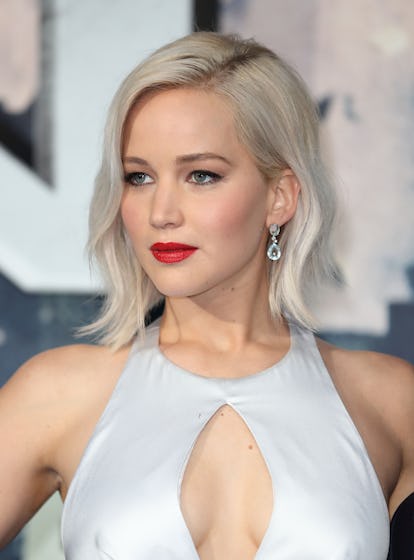 Mike Marsland
Jennifer Lawrence has all the makings of a mogul. After the release of her upcoming spy thriller Red Sparrow, Lawrence will take a yearlong sabbatical from acting to focus on activism, but coyly admitted in her March 2018 Vanity Fair profile that she wants to crank out at least one more "brilliant" idea before she takes her break.
Revealing that she's "been toying with the idea of becoming a billionaire and I'd like to start my own TV network," Lawrence told Vanity Fair that her concept for a reality television series would be called Breakup Island. ""I can't tell you the details, but there are very distinct cast members like The Bachelor, between the ages of 20 and 50, who you stay with and care about," she said. "My agent was laughing at me when I told him. But I am clearly obsessed."
This reality television series idea is technically not Lawrence's first foray into content development, either. In her September 2017 Vogue cover, she gave an update on the film she is reportedly co-writing with Amy Schumer, in which the two IRL best friends will play "dysfunctional twins."
Since her friendship with Schumer is not as "one-sided" as her acquaintanceship with reality television queen Kim Kardashian, and the two are already writing a script together, maybe Lawrence should bring Schumer in to her Breakup Island pitch meetings. Working with Schumer to develop a reality series involving former Bachelor contestants might not be a bad idea, especially given that Schumer is a pretty big Bachelor franchise fan herself, having appeared on an episode of The Bachelorette.
Vanity Fair also reported that Lawrence "prides herself on healthy relationships—and healthy breakups," holding on to the ability to remain friends with her ex-boyfriend Darren Aronofsky, so the actress would probably be perfectly poised to produce a reality series all about relationships and breakups.
Related: Jennifer Lawrence Admits Her Friendship With Kim Kardashian Is Probably One-Sided