Jennifer Lawrence Admits Her Friendship With Kim Kardashian Is Probably One-Sided
She also opened up about her upcoming projects and her reaction to Trump's election.
---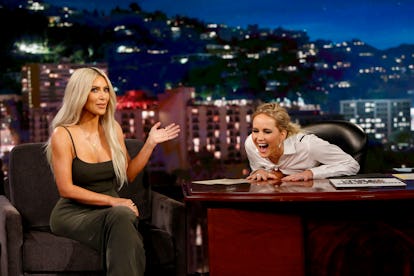 Randy Holmes/ABC via Getty Images
Oscar winner and star of the upcoming Red Sparrow Jennifer Lawrence recently dished about her upcoming projects, famous friendships, and reaction to the 2016 election in a conversation at tony NYC women's club The Wing. The most shocking revelation? That there is a woman in this country who wouldn't want to be BFFs with J.Law. And that woman is Kim Kardashian.
Despite the fact that Lawrence has wined and dined at the Kardashian house and interviewed Kim on Jimmy Kimmel Live!, she said that their relationship is "probably a one-sided friendship" and in fact, "I don't know that she'd call me her friend."
But while the friendship might not be equal, it is sincere. "[The Kardashians] are smart, grounded and normal and funny. They're very nice people, very close…which I think is a positive thing to put out into the world," said Lawrence at the event. "They've been absolutely lovely to me."
Less lovely is Lawrence's relationship to the Trump administration. The star, who recently announced she'd be taking a year off from acting to help young people become involved in politics through the organization Represent.Us, admitted that after the election, "I felt helpless, I felt scared, I felt devastated, and I found the only thing I could actually do is educate myself."
That education eventually led her to become more involved in activism. "The more I educated myself on our government the more I realized everything that I care about… is affected by corruption…It doesn't matter who we have in office, these problems will still exist. That is what we have to fix." Lawrence also announced that she's teaming up with former E! correspondent Catt Sadler to create a docuseries about the #metoo movement.
See video from her talk at The Wing here:
In happier news, about a much more two-sided friendship, Lawrence recently attended the wedding of close pal Amy Schumer! "The best moment? I think their vows,"Lawrence told E! News. "[Comedian] John Early ordained them in his character that's a blonde southern woman, so we were laughing throughout and crying because their vows were so beautiful. It was very Amy, very funny at the same time. Quintessential Amy. It was just beautiful and gorgeous."
Related: Jennifer Lawrence Responds to "Utterly Ridiculous" Concerns Over Her Not Wearing a Coat in 40-Degree Weather
BAFTA Red Carpet 2018: See Jennifer Lawrence, Angelina Jolie and More Actresses in Black Dresses
Jennifer Lawrence attends the EE British Academy Film Awards (BAFTAs) held at the Royal Albert Hall on February 18, 2018 in London, England. (Photo by Karwai Tang/WireImage)

Karwai Tang
Angelina Jolie attends the EE British Academy Film Awards (BAFTA) held at Royal Albert Hall on February 18, 2018 in London, England. (Photo by Jeff Spicer/Jeff Spicer/Getty Images)

Jeff Spicer
Lupita Nyong'o attends the EE British Academy Film Awards (BAFTA) held at Royal Albert Hall on February 18, 2018 in London, England. (Photo by Jeff Spicer/Jeff Spicer/Getty Images)

Jeff Spicer
Saoirse Ronan attends the EE British Academy Film Awards (BAFTAs) held at the Royal Albert Hall on February 18, 2018 in London, England. (Photo by Karwai Tang/WireImage)

Karwai Tang
Salma Hayek attends the EE British Academy Film Awards (BAFTA) held at Royal Albert Hall on February 18, 2018 in London, England. (Photo by Jeff Spicer/Jeff Spicer/Getty Images)

Jeff Spicer
Margot Robbie attends the EE British Academy Film Awards (BAFTAs) held at Royal Albert Hall on February 18, 2018 in London, England. (Photo by Samir Hussein/WireImage)

Samir Hussein
Octavia Spencer attends the EE British Academy Film Awards (BAFTA) held at Royal Albert Hall on February 18, 2018 in London, England. (Photo by Jeff Spicer/Jeff Spicer/Getty Images)

Jeff Spicer
Greta Gerwig attends the EE British Academy Film Awards (BAFTAs) held at the Royal Albert Hall on February 18, 2018 in London, England. (Photo by Karwai Tang/WireImage)

Karwai Tang
Allison Janney attends the EE British Academy Film Awards (BAFTA) held at Royal Albert Hall on February 18, 2018 in London, England. (Photo by Jeff Spicer/Jeff Spicer/Getty Images)

Jeff Spicer
Lily James attends the EE British Academy Film Awards (BAFTAs) held at Royal Albert Hall on February 18, 2018 in London, England. (Photo by Dave J Hogan/Dave J Hogan/Getty Images)

Dave J Hogan
Anya Taylor-Joy attends the EE British Academy Film Awards (BAFTA) held at Royal Albert Hall on February 18, 2018 in London, England. (Photo by Jeff Spicer/Jeff Spicer/Getty Images)

Jeff Spicer