Jennifer Lawrence Is Taking a Year Off from Acting to Focus On Activism
'Red Sparrow' star Jennifer Lawrence has announced that she will take a year-long break from acting to focus on activism and getting young people involved in politics.
---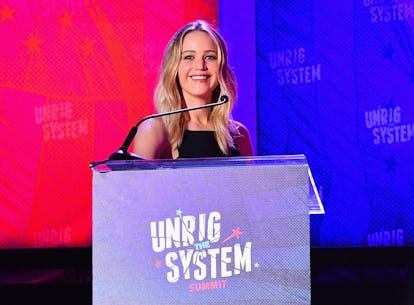 Erika Goldring/Getty Images
In September, actress Jennifer Lawrence announced that she would be taking a break from acting, though she wasn't sure how she would spend her time. "I don't know, start making pots? I think I'm just taking a little break," she said earlier this year.
But now, she has a plan. Lawrence will be taking a sabbatical to focus on using her platform for activism — specifically, "trying to get young people engaged politically on a local level," she told Entertainment Tonight.
This move, she says, isn't "partisan" but is "just anti-corruption and stuff trying to pass state by state laws that can help prevent corruption, fix our democracy."
She'll be working with the organization Represent.Us, which, according to its website, aims to curb political corruption by, among other initiatives, ending gerrymandering, making campaign funding more transparent, and changing voting laws to allow open primaries and the ranking of candidates.
The mother! star has already started working with the organization; earlier this year, she travelled to a high school in Ohio to talk to a government class about the importance of political involvement. "It was really amazing how informed Ms. Lawrence is about politics," senior Londyn Crenshaw remarked after the visit. The actress has also been outspoken on issues like sexual harassment in Hollywood, attended the Women's March earlier this year, and hosted a political comedy show.
According to E! News, other boldfaced names on the Represent.Us board include directors David O. Russell, who worked with Lawrence in Silver Linings Playbook, Joy and American Hustle, and Adam McKay, who is set to direct Lawrence (post-break) in Bad Blood, the story of Elizabeth Holmes and Theranos.
While Lawrence will certainly have enough on her hands, we wouldn't begrudge her for taking weekends to make pots, too. Everyone needs an outlet! And everyone needs pots.
Related: Jennifer Lawrence Says She "Was Sobbing" Throughout Amy Schumer's Wedding