Jennifer Lawrence Is Hosting Political Comedy Variety Show Unrigged Live!
She'll be hosting a comedy variety show that's all about unrigging the system.
---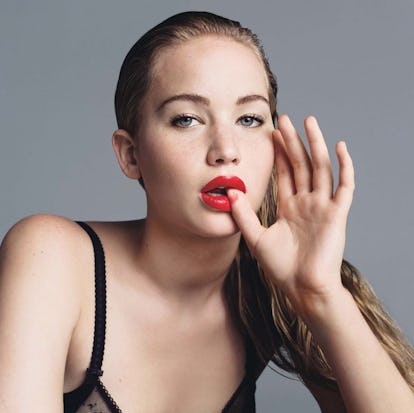 Jennifer Lawrence in "The Brave Ones," W magazine September 2010. Photographer: Inez Van Lamsweerde and Vinoodh Matadin Stylist: Alex White
2017 was a year of political awakening for many, including Jennifer Lawrence. Most famously, the beloved actress revealed at the end of the year that she's already figured out a plan should she ever run into president Donald Trump: "I've got a pretty good speech," she told Oprah for The Hollywood Reporter. "And it ends with a martini to the face… Oh, my God, I've been waiting for this moment. I'll give you a hint — it's not nice. You wouldn't want me to say it to you." While she's still waiting for that moment to come, Lawrence has found other ways of expressing her political beliefs. Namely, she has just been announced as the host of a comedy variety show in New Orleans called Unrigged Live!.
Thankfully, those unable to attend in person will be able to livestream the event here on February 3, as Variety reports. Hosted at Tulane University, the show will also feature Trainwreck's Nikki Glaser and comedian Tig Notaro. The show is also a part of a larger weekend of programming called "Unrig the System" that "is about crossing partisan and ideological divides and working together on concrete solutions to unrig America's political system," as the website for it touts.
While the gig may be Lawrence's most political yet, the actress has spoken out about the current state of politics a handful of times before. Outside of her quippy Trump diss, Lawrence has talked about the imminent danger of climate change. "This new language that's forming. I don't even recognize it. It's also scary to know that climate change is due to human activity and we continue to ignore it, and the only voice that we really have is through voting," she said when discussing last year's divisive Mother! at a Channel 4 News interview, as E! reported. "And we voted, and it was really startling. You're watching these hurricanes now and it's hard, especially while promoting this movie, not to feel Mother Nature's rage or wrath."
Lawrence has also been vocal about equal human rights for all, telling Vogue last year, "We can't continue this divide and anger," she told the magazine. "There are issues affecting us as human beings, not as liberals and not as Republicans. We have to protect the foundation of this country and acceptance. If you're preaching acceptance, accept immigrants, accept Muslims accept everybody."
Watch: Jennifer Lawrence, Emma Stone and More of Hollywood's Biggest Names Pledge to Speak Their Minds