Jennifer Lawrence and mother! Amongst Razzie Awards Dishonorees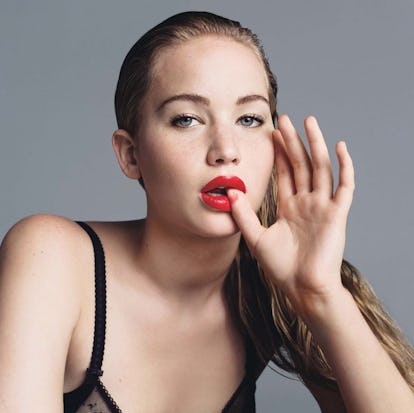 Jennifer Lawrence in "The Brave Ones," W magazine September 2010. Photographer: Inez Van Lamsweerde and Vinoodh Matadin Stylist: Alex White
It wasn't supposed to be like this. There was a time not that long ago when Darren Aronofsky's mother! and the film's leading lady Jennifer Lawrence were being talked about as possible Oscar contenders. The early reviews, in fact, were pretty strong, but when the once mysterious film actually hit cinemas, audiences, by and large, just weren't having it. It received a rare "F" grade from CinemaScore's audience surveys. Sure, there's still some critical true believers out there, but for the most part the allegorical film's reputation has faltered. There's still a small chance it might receive something like an Oscar nomination in the sound design category, but, sadly, this is not the film to score Michelle Pfeiffer her fifth nomination, and, perhaps more importantly, her first win
Instead, we're here, and mother! is one of the few films with multiple nominations for the facetious Golden Raspberry Awards (AKA the Razzies), the mock award meant to highlight worst in film. While mother! managed to escape the dreaded Worst Picture category, Lawrence, Javier Bardem, and Aronofksy were all singled out for their categories (in Aronofsky's case, it's for directing, not writing, even if it might have been his pen and not his lens that lead to so much of the divisiveness surrounding the film). In Bardem's case, his work in Pirates of the Caribbean: Dead Men Tell No Tales was also cited in his nomination.
At least the film isn't Transformers: Why Are They Still Making These? The Last Knight, which scored nine nominations, or Fifty Shades Darker, which scored eight (and very few actors involved were spared, sorry Dakota Johnson). Baywatch and The Emoji Movie were also nominated in multiple categories.
At least mother! adds some highbrow spice to the nominations, because otherwise the nominations are (quite rightfully) dominated by sequels, remakes, kids flicks and attempted franchise starters, which only serves to remind you how low the lows of Hollywood output were this year. It was so dire, the Razzies didn't even have room to nominate notable critical disappointments like King Arthur: Legend of the Sword and Justice League. Nor, did they highlight "Someone actually made this?" films like Rock Dog and Monster Trucks (perhaps because everyone forgot they existed). Beautiful but stupid film Valerian was also spared (much to the delight of Cara Delevingne, we're sure), and, perhaps most interestingly of all, the Razzies didn't make the choice to stick it to Harvey Weinstein by nominating Tulip Fever. The troubled drama was the last film released by The Weinstein Company while Weinstein himself was in control, and the film's complicated backstory and eventual flop status highlighted how not-quite-brilliant Weinstein often was as a producer. While perhaps the cast and crew of the film didn't deserve to be singled out in any categories, a Worst Picture nomination directly aimed at Weinstein would have provided a message. The last award he ever won could have been a Razzie.
Then again, the ceremony tries to keep things light, and on occasion stars themselves have actually shown up to accept their awards in good humor. (Ben Affleck, Halle Berry and Sandra Bullock are amongst those who have done so.)
While Lawrence could be the next Oscar winner to show up to claim a Razzie, there's no guarantee she'll win. She has stiff competition in the actress category from fourth time nominee Tyler Perry.
Here, a complete list of this year's nominees:
WORST PICTURE "Baywatch" "The Emoji Movie" "Fifty Shades Darker" "The Mummy" "Transformers: The Last Knight"
WORST ACTRESS Katherine Heigl, "Unforgettable" Dakota Johnson, "Fifty Shades Darker" Jennifer Lawrence, "Mother!" Tyler Perry, "BOO! 2: A Medea Halloween" Emma Watson, "The Circle"
WORST ACTOR Tom Cruise, "The Mummy" Johnny Depp, "Pirates of the Caribbean: Dead Men Tell No Tales" Jamie Dornan, "Fifty Shades Darker" Zac Efron, "Baywatch" Mark Wahlberg, "Daddy's Home 2" and "Transformers: The Last Knight"
WORST SUPPORTING ACTOR Javier Bardem, "Mother!" and "Pirates of the Caribbean: Dead Men Tell No Tales" Russell Crowe, "The Mummy" Josh Duhamel, "Transformers: Last Knight" Mel Gibson, "Daddy's Home 2" Anthony Hopkins, "Collide" and "Transformers: The Last Knight"
WORST SUPPORTING ACTRESS Kim Basinger, "Fifty Shades Darker" Sofia Boutella, "The Mummy" Laura Haddock, "Transformers: The Last Knight" Goldie Hawn, "Snatched" Susan Sarandon, "A Bad Moms Christmas"
WORST SCREEN COMBO Any Combination of Two Characters, Two Sex Toys or Two Sexual Positions, "Fifty Shades Darker" Any Combination of Two Humans, Two Robots or Two Explosions, "Transformers: The Last Knight" Any Two Obnoxious Emojis, "The Emoji Movie" Johnny Depp and His Worn Out Drunk Routine, "Pirates of the Caribbean: Dead Careers Tell No Tales" Tyler Perry and Either the Ratty Old Dress or Worn Out Wig, "BOO! 2: A Madea Halloween"
WORST REMAKE, RIP-OFF or SEQUEL "Baywatch" "BOO 2: A Medea Halloween" "Fifty Shades Darker" "The Mummy" "Transformers: The Last Knight"
WORST DIRECTOR Darren Aronofsky, "Mother!" Michael Bay, "Transformers: The Last Knight" James Foley, "Fifty Shades Darker" Alex Kurtzman, "The Mummy" Anthony (Tony) Leondis, "The Emoji Movie"
WORST SCREENPLAY "Baywatch" "The Emoji Movie" "Fifty Shades Darker" "The Mummy" "Transformers: The Last Knight"
Related: Actually, Jennifer Lawrence Thinks Audiences Should Have Known a Bit More About Mother! Before Seeing It