Jennifer Lawrence Tells Oprah She Wants to Form a Commission Against Sexual Abuse in Hollywood
"I've been waiting for this moment."
---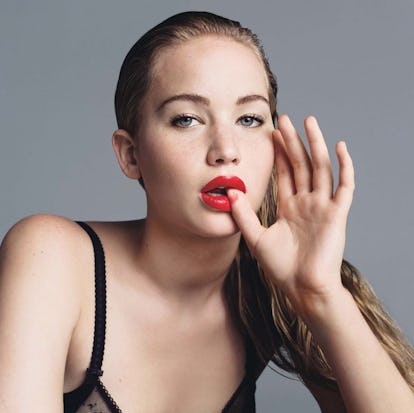 Jennifer Lawrence in "The Brave Ones," W magazine September 2010. Photographer: Inez Van Lamsweerde and Vinoodh Matadin Stylist: Alex White
If you need a refresher of why you fell in love with Jennifer Lawrence in the first place, her latest interview with Oprah is an excellent place to start. The two cultural icons recently met up to discuss our current times, from the onslaught of sexual assault allegations in Hollywood, specifically against Harvey Weinstein, to the accused sexual abuser in the White House, Donald Trump. In regards to the latter, Lawrence has already outlined what she would say to the 45th president should she ever meet him in person.
"I've got a pretty good speech," she told Oprah for The Hollywood Reporter. "And it ends with a martini to the face… Oh, my God, I've been waiting for this moment. I'll give you a hint — it's not nice. You wouldn't want me to say it to you."
Lawrence also revealed that, in the wake of the ever-mounting allegations against Hollywood figureheads, she's been working on forming a commission against sexual abuse to protect her industry peers. "I've talked to women. We've talked about forming a commission," she said. "It's just so sad because every actor, when you're starting out, there's really not a lot of options… And then you become more powerful, and people start fucking with you less. People at the beginning of their careers don't want to rock the boat because if you rock the boat, you'll be called difficult. How can there be rules in place where there are certain ways that you just cannot treat people? Or a commission, somebody that they can call? If every A-list actor decides to join this commission, we know everybody in the industry. I know every studio head in town. If I'm on this commission, and [if] I get an email about somebody being treated badly on a set, I can send an email. We have to all put our heads together and figure out how to not let this moment go, not just be like, "Oh, well, that was crazy." Something has to really get done."
As for what specifically needs to happen, the actress has some ideas: "Social change. Men need more social awareness. But this comes down to equality, and until all women in every job are paid equally for the same amount of work, how are we ever going to be thought of as equals? As long as there is one group of humans that is overruling another one, there's going to be abuse, [and] why would we be thought of as equals? … My political passion has almost turned into an obsession. I mean, I don't think you ever do feel settled, [but] as soon as you feel settled with your home and your personal life, you're looking at the world and going, 'How in the hell do I fix this? What do we do?'"
You can read the rest of the very worthwhile interview here.
Related: Jennifer Lawrence Says Darren Aronofsky Would Not Stop Talking About mother! While They Were Dating
Jennifer Lawrence's Hair Evolution: From Blonde to Brunette, Long to Short
A young Jennifer Lawrence steps out at the The Burning Plain premiere during the 65th Venice Film Festival in 2008 with her blonde locks in a tousled up-do, dewy skin and a neutral eye.

Getty.
Lawrence attended the The Burning Plain premiere in in 2009 wearing a natural face and bold red lip.

Getty.
The actress stunned at the 83rd Annual Academy Awards in 2011, where she received her first Oscar nomination for her role in Winter's Bone, with soft blonde curls and a subtle smokey eye.

WireImage
The actress wore her dark brown hair in a tousled bun at the LA premiere of Silver Linings Playbook in 2012.

FilmMagic
With a dramatic smoky eye, sun-kissed skin and tousled bangs, Lawrence wowed at the Los Angeles premiere of The Hunger Games in 2013.

FilmMagic
Lawrence wore her hair swept back to take home her first Oscar for her role in Silver Linings Playbook in 2013.

Getty.
The actress went back to brunette for the 70th Annual Golden Globe Awards in 2013.

WireImage
Lawrence rocked a tousled pixie cut with dewy skin and a pink lip at the 20th Annual Screen Actors Guild Awards in 2014.

Getty Images
Lawrence glowed at The Hunger Games: Mockingjay – Part 2 premiere in 2015 with her short locks in tousled waves, a classic red lip and a shimmery gold eye.

WireImage
Lawrence attends the 88th Annual Academy Awards in 2016 with her hair in a sleek bob, rosy cheeks and a pink lip.

Getty.
Wearing her silver gray bob in tousled waves with a bold red lip, Lawrence arrives at the screening of X-Men Apocalypse in London.

Getty.
A simple tousled updo with an exaggerated smoky eye was the look at the Passengers photo-call.

Getty.
Wearing her perfectly blown-out locks with a light contour on the cheekbones, Lawrence arrives at the Passengers photo-call in Madrid.

Getty.
Lawrence wears her tousled, beachy blonde waves middle-parted with a soft gray smoky eye and a nude lip.

Getty.
Stunning at the Christian Dior, couturier du reve' Exhibition Launch in Paris, Lawrence wears an exaggerated smoky cat eye with a nude lip.

Getty.
Actress Jennifer Lawrence wore her hair in messy waves at the French Premiere of "mother!" at Cinema UGC Normandie on September 7, 2017, in Paris, France. (Photo by Stephane Cardinale – Corbis/Corbis via Getty Images)

Stephane Cardinale – Corbis
Jennifer Lawrence wore her shoulder-length hair in loose waves at the 2017 Toronto International Film Festival at TIFF Bell Lightbox on September 10, 2017, in Toronto, Canada. (Photo by Kevin Winter/Getty Images)

Kevin Winter
Actress Jennifer Lawrence looked sleek with super straight locks at ELLE's 24th Annual Women in Hollywood Celebration at Four Seasons Hotel Los Angeles at Beverly Hills on October 16, 2017, in Los Angeles, California. (Photo by Jon Kopaloff/FilmMagic)

Jon Kopaloff
Jennifer Lawrence pulled her highlighted hair back into a messy updo at the Academy of Motion Picture Arts And Sciences' 9th Annual Governors Awards on November 11, 2017, in Hollywood, California. (Photo by Steve Granitz/WireImage)

Steve Granitz
Jennifer Lawrence wore her wavy blonde hair in a center-parted updo at The Hollywood Reporter's 2017 Women In Entertainment Breakfast at Milk Studios on December 6, 2017, in Los Angeles, California. (Photo by Alberto E. Rodriguez/Getty Images)

Alberto E. Rodriguez
Actress Jennifer Lawrence wore her straight blonde hair slicked down at the EE British Academy Film Awards (BAFTA) held at Royal Albert Hall on February 18, 2018, in London, England. (Photo by Jeff Spicer/Jeff Spicer/Getty Images)

Jeff Spicer
Jennifer Lawrence rocked voluminous curls at the Red Sparrow European premiere on February 19, 2018, in London, England. (Photo by Tristan Fewings/Getty Images)

Tristan Fewings
Jennifer Lawrence wore her blonde hair in a tight bun at the Red Sparrow New York premiere on February 26, 2018, in New York City. (Photo by Michael Loccisano/WireImage)

Michael Loccisano
Jennifer Lawrence attended the 90th Annual Academy Awards with her hair styled in glamorous, loose curls. (Photo by Dan MacMedan/WireImage)

Dan MacMedan
Jennifer Lawrence stepped out at the BAM Gala 2018 on May 30, 2018, in New York City with a short new haircut. (Photo by Cindy Ord/Getty Images for Brooklyn Academy of Music)

Cindy Ord