Jennifer Lawrence Says Darren Aronofsky Would Not Stop Talking About mother! While They Were Dating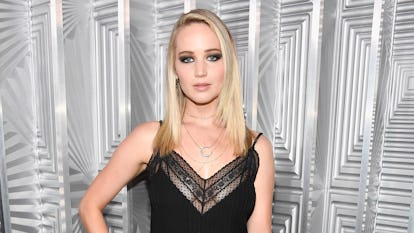 Frazer Harrison/Getty Images
In the saga of Jennifer Lawrence and Darren Aronofsky's erstwhile romance, it seems as if everything circles back to mother! It began after the filming of mother! and ended, a year later, after the theatrical release of mother! And now, it turns out that it may have been nothing but mother! all day, every day. According to J.Law's "Actors on Actors" Variety interview with, of all people, Adam Sandler, the auteur just wouldn't shut up about his controversial film while they were dating.
"Dating the director was different, because we'd be on the tour together," she said. "I'd come back to the hotel, and the last thing I want to talk about or think about is a movie. He comes back from the tour, and that's all he wants to talk about. I get it; it's his baby. He wrote it; he conceived it; he directed it. I was doing double duty trying to be supportive partner while also being like, 'Can I please, for the love of God, not think about mother! for one second.'"
"And then he would start reading me reviews," she continued. "I finally was like, 'It's not healthy. I'm not going to do it, because if I read it, I start getting defensive.' Especially because it's my man. I don't want to sound in an interview that I'm defending what we're doing in any way. It's awesome, what we did. The people who hate it really hate it. But it's nothing that needs to be defended. If I read a negative review, I just feel defensive."
Though, Lawrence didn't dwell on Aronofsky for too long, and the conversation soon turned to Sandler's work. Would you be surprised to learn that Lawrence is a fan? When Sandler reveals he hasn't read reviews since Billy Madison, Lawrence was quick to defend him.
"You put your whole soul and body — you move to shoot a movie, you do all of this," she tells Sandler. "You love it, obviously. You wouldn't be there if you didn't love it."
Related: Why mother! Was an "F" Cinema Score Perfect Storm
Jennifer Lawrence: Screen Test