ANOTHER ONE BITES THE DUST
Jennifer Lawrence and Darren Aronofsky End the mother! of All Confusing Relationships
Jennifer Lawrence and Darren Aronofsky have broken up after one year of dating.
---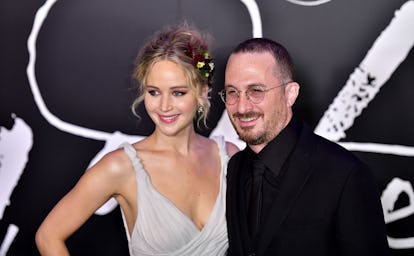 James Devaney/Getty Images
While some young celebrities are taking this time of year to rekindle old flames (they call it "cuffing season" for a reason), others are calling it quits. The mother! of all confusing relationships—that is, the union between Jennifer Lawrence and Darren Aronofsky—has officially come to a close.
Doesn't it seem like Jennifer Lawrence and Darren Aronofsky were together for longer than a year? Well, looking back on this relentless year, it becomes clear that it all started with mother!. The actor and director first started to casually date one another in October 2016m after finishing up the film that Aronofsky directed and Lawrence starred in, and leaned in to a more public relationship as the year went on. Their twenty-one year age difference—Lawrence is 27 and Aronofsky is 48—did raise some eyebrows while the two were together, but they remained unshakeable until now, as People reports that the couple is officially done.
Not even two full weeks ago, Lawrence and Aronofsky watched Angelina Jolie and Agnès Varda twirl together onstage at the 2017 Governors Awards. What on earth could have happened between then and now to cause the couple to end things after a year? Did the unfavorable reviews of mother! cause a rift in their relationship? Maybe a post-mother! universe is just not the world in which a relationship between Aronofsky and Lawrence could flourish.
If you couldn't make it all the way through the psychosexual horror-drama about a woman (Lawrence) whose unexpected houseguests cause heaps of trouble for her and her husband (Javier Bardem), now you can imagine a scene in an alternate universe version of mother!, where Jennifer Lawrence, Darren Aronofsky, Chris Martin, Rachel Weisz and Daniel Craig all gather around the dinner table. All of them are romantically linked somehow, with Rachel Weisz being Aronofsky's ex-wife and current wife of Daniel Craig. Might as well toss Nicholas Hoult in there too, since he and X-Men co-star Jennifer Lawrence dated off and on for a few years before she started relationships with Martin and Aronofsky. What a fun scene that could be.
Months before Lawrence and Aronofsky went public, she told Harpers Bazaar that she has no type when it comes to men "because patterns are the work of the devil." She's right; Nicholas Hoult, Chris Martin and Darren Aronofsky seem absolutely nothing alike, varying in age, physical appearance, and likely sense of humor. Just speculating there.
Related: Why Are All the Young Celebs, from Justin Bieber and Selena Gomez to Alex Turner and Alexa Chung, Getting Back Together?