Jennifer Lawrence Has a Simple Message for Mother!'s Critics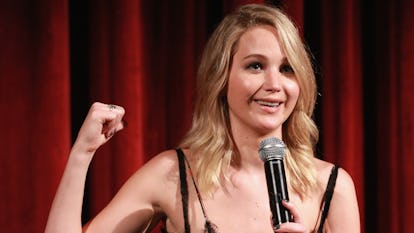 Robin Marchant/The Academy of Motion Picture Arts & Sciences/Getty Images
Jennifer Lawrence's new movie, Mother!, isn't getting the love she probably thinks it deserves. The film received an F from CinemaScore, and reviews are split — though the negative ones are pretty scathing. But negative buzz won't stop J.Law from being J.Law, as evidenced by her reaction to the audience at an Academy screening of the movie earlier this week.
So, basically, the actress held up her middle finger while recounting a tale from filming during a Q&A portion of the screening at the Museum of Modern Art on Thursday, according to People, as if to say, "I don't care what you think," or "You're totally missing the point," or maybe, "It doesn't matter what you say about the movie, I'm Jennifer Lawrence, I've got my Oscar, I've got my money, and no amount of green tomato splats can change that." Meanwhile, Darren Aronofsky, the film's director and Lawrence's boyfriend, simply giggled from the seat beside her. That pretty much says it all, if you ask us.
The film features Lawrence's titular Mother character dealing with unexpected house guests, a husband who seems more than a little creepy, and other truly terrifying surprises that delve into spoiler territory (but are every bit as disturbing as the ones found in Certified Fresh It).
Lawrence has confessed she isn't totally on board with how reluctant Aronofsky was about revealing any details of the film to prospective audience members before they showed up at the theaters. "He wants people to go in blind," she said, according to a New York Times profile. "You're going to miss all of the detail and all of the brilliance behind the whole movie. My advice is to understand the allegory."
Maybe later audiences, more likely to pick up spoilers as time goes by, will have a more favorable opinion of the film. Or maybe Lawrence will continue to feel the need to flip audiences off.