Jennifer Lawrence is Spooked in the First Trailer for mother!
See Jennifer Lawrence in the first trailer for Darren Aronofsky's upcoming horror-mystery 'mother!' co- starring Javier Bardem.
---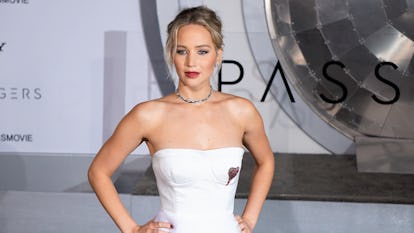 Mintaha Neslihan Eroglu/Anadolu Agency/Getty Images
Mother! starring Jennifer Lawrence and written/directed by Darren Aronofsky has released its first trailer, and, well, we finally have some more answer to the question of what the film is actually about.
Previously all we had to go one was an official log line that described, mother! (yes, with an intentionally lowercase m) as a film that "centers on a couple whose relationship is tested when uninvited guests arrive at their home, disrupting their tranquil existence." The film also stars Javier Bardem, Ed Harris, Michelle Pfeiffer, Domhnall and Brendan Gleeson, and Kristen Wiig.
In the 30-second spot, a barefoot Lawrence wanders an empty house as we hear snippets of frightened dialogue, which goes as follows:
Jennifer Lawrence: What brings you to us?
Ed Harris (probably): Well, they told me I could find a room here.
Javier Bardem: He thought it was a bed and breakfast….
(*creepy jangling sounds*)
Jennifer Lawrence: He's a stranger.
Female voice (Kristen Wiig?): Hello?
(*whooshing sound like you hear when you're listening to an ultrasound*)
Jennifer Lawrence: Did you know he had a wife?
(*chatter sounds*)
Jennifer Lawrence: Who are these people?
Javier Bardem: They've come here to see me.
(*knife sounds, panting*)
Jennifer Lawrence: You're insane! Murderer!
Michelle Pfeiffer: God help you.
(*screaming*)
Ok, so maybe there isn't that much clarification as to the film's plot, but you can see it all (confusingly) go down for yourself in the video below:
It does, however, have a creepy and beautiful poster:
Mother! kicks off a spate of exciting projects for Lawrence after last year's disappointing Passengers. After mother!, Lawrence is slated to reunite with her Hunger Games director Francis Lawrence in sexy spy thriller Red Sparrow, reprise her role as Mystique in X-Men spin-off Dark Phoenix, and then there's the long-awaited, still-not-in-production story of Silicon Valley scammer Elizabeth Holmes, Bad Blood.
According to the trailer's YouTube description, the full trailer for mother! will be available August 8. After opening at the Toronto Film Festival, mother! will hit theaters September 15.
Related: Jennifer Lawrence Slams Reporter for Touching Her Dog
Jennifer Lawrence Reveals Her Cinematic Crush: