Jennifer Lawrence, a Kardashian Superfan, Interviews Kim Kardashian
And remembers the time she got dressed by Kanye.
---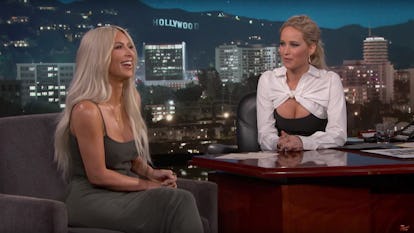 YouTube/Jimmy Kimmel Live
Mere minutes into Jennifer Lawrence's stint as guest host of Jimmy Kimmel Live! on Thursday, it became abundantly clear that the main reason she had accepted the gig was so that she could have a "professional" excuse to hang out with her favorite celebrity ever, Kim Kardashian West. After introducing KKW by saying that she'd been "obsessed with this next guest and her family for over a decade in a really healthy way," Lawrence interviewed her reality TV muse in a long, wide-ranging interview that included probing questions that only a true KUWTK fan — or Jennifer Lawrence — would be brave enough to ask, like, "Do you think it's a coincidence that Reggie Bush's wife looks just like you?" and "Do you and Kanye fart in front of each other?" and "How did you pick your surrogate and why didn't you ask me?"
The best story of the night was that of the time two weeks ago, when Lawrence went to Kris Jenner's house for dinner with the Kardashian-Jenner clan, which, she said, was "everything I could've ever dreamed of." Kardashian summed it up a little differently: "I've never seen my mom more drunk in our lives."
The duo explained that the night peaked when Lawrence, several martinis in, demanded that Kardashian share a bit of her winning style with her. "I remember getting naked in your mom's closet and ordering you to dress me," she said, still cracking up at the memory. "You dressed me fabulously, I looked amazing." But, Lawrence revealed, she's still a little hazy on some of the details. "Is my memory correct — did you call Kanye to come up in the closet? Did you want him to style me?" she asked, prompting Kardashian to set the record straight. "You said, 'I'm not joking, I really want Kanye to style me,' and so I said, 'OK.' I come back in and you're fully butt naked," Kardashian said. "I feel like I know you so well now!"
Watch the rest of the hilarious interview below.
Lawrence has spoken about her Kardashian obsession before, and has spent time with the famous family several times in the past. In her September 2017 Vogue cover story, she shared that he love of the famous family was still very much going strong, and that the mother! crew had constructed a "Kardashian tent" on set for her as a place where she could go between takes of the psychological thriller to decompress. "It was a tent that had pictures of the Kardashians and Keeping Up With the Kardashians playing on a loop — and gumballs," Lawrence said. "My happy place."
Watch: Jennifer Lawrence Reveals Her Cinematic Crush