Kylie Jenner Deleted Every Picture of Stormi Webster's Face on Instagram
She also won't be sharing any new ones anytime soon.
---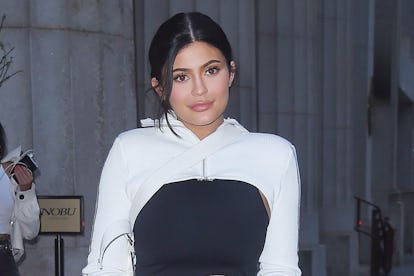 Josiah Kamau/Getty Images
Over the past week, Kylie Jenner fans may have noticed a curious change to her Instagram. According to a report from Life & Style last Monday, the reality TV star deleted all photos on social media that show the face of her four-month-old daughter, Stormi Webster. Now, fans are finally getting an explanation.
On Sunday, after Jenner uploaded a selfie of her and Stormi cuddling in which most of Stormi's face is cropped out, a fan commented "she cUT HER BABY OUT," according to a screenshot by Instagram account @commentsbycelebs. Jenner took the opportunity to respond. "Yeah i cut my baby out," she replied, according to the screenshot. "I'm not sharing photos of my girl right now."
Jenner did not elaborate further on her reasons for deleting Stormi's face pics from her Instagram, but back when she was happily sharing photos of her baby (as is her right), fans were using them as so-called evidence to support an uncomfortable conspiracy theory that Travis Scott is not Stormi's father. In some cases, they were even posting pictures of the baby's face next to a photo of Jenner's bodyguard (who himself has denied the speculation that he is Stormi's father).
Jenner hasn't confirmed if the spreading of a nasty rumor was the reason behind her totally understandable social media switch-up. And, of course, Jenner could also just have decided to stop sharing photos of Stormi for an unrelated reason, or no reason at all, both of which are fine.
A Guide to the Many, Many New Celebrity Babies of 2018 (So Far)