Why Ariana Grande and Pete Davidson Called Off Their Engagement
But they haven't broken up yet.
---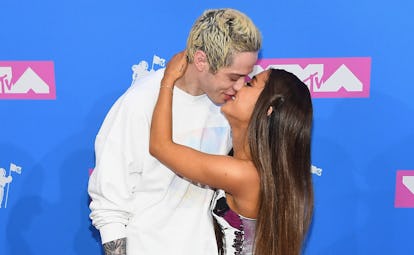 Nicholas Hunt
After a whirlwind summer romance, Ariana Grande and Pete Davidson have decided to press pause on flaunting their love to the rest of the world—in other words getting married and having a wedding. This past Sunday, it was revealed that the pair are no longer engaged, despite the $93,000 teardrop diamond ring the singer has to show for it, and now some more details about what led to that decision have emerged. Apparently, it was the wedding planning that got in the way of their relationship.
When the pair were forced to make decisions to cement their commitment until death do they part, there was (maybe for the first time) cause for reflection. "She realized that planning a wedding right now felt very rushed," a source tells People. "It's not what she wants to do right now. She doesn't want to make any rushed decisions and has decided to take a step back instead." Indeed, getting married after an engagement that allegedly took place just three weeks after they got together could hardly be any more rushed. But it can be difficult to step outside of one's life and look at it objectively—especially when emotions are high—for us noncelebrities and people like Grande and Davidson.
Even though Grande and Davidson are no longer rushing into marriage, the pair haven't given up on their relationship. "Their engagement is off, but they still plan on spending time together," the source adds. "It's not like they split and never plan on seeing each other again. They just decided to slow things down."
Meanwhile, another source close to the pair was a lot more direct about how whimsical Grande and Davidson can be. "They totally could get back together because who knows with those two," the second source says. "Honestly, who knows—they were fully together on Saturday…. She supported him at SNL this weekend, and with them, you never know," the source says, though they admit "the engagement being called off was very sudden. They put on this front of being so happy but there were lots of fights and struggles behind the scenes."
Just a couple months ago, Grande talked about how much she was loving the wedding planning process, telling Good Morning America of Davidson, "He just ticks every box, and it gets better every day…. My friends and I—and my mom and everybody—have been brainstorming and sharing ideas. It's really fun. I work so much I've never spent so much time planning something that's personal, that feeds my soul so much and my heart. I'm gonna cry. I'm just so excited." Oh well, at least we still have Justin Bieber and Hailey Baldwin's upcoming wedding party to look forward to.