How SNL Is Embracing Pete Davidson's Engagement to Ariana Grande
There were two bits about it in the season premiere.
---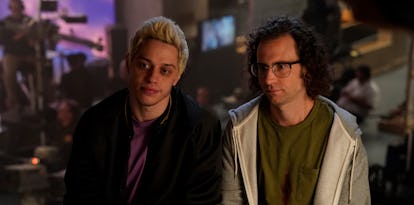 Photo by: Will Heath/NBC/NBCU Photo Bank via Getty Images
Pete Davidson is fully embracing his role as "cast member made extra-famous by being Ariana Grande's fiancé" in the new season of Saturday Night Live. The season 44 premiere featured two separate bits about the relationship and ensuing media frenzy.
In a Weekend Update segment, Davidson talked with Colin Jost (who is dating Scarlett Johansson, though that's basically old news by comparison) about his summer. "She's the number one pop star in the world, and I'm the guy from SNL who everyone thinks is in desperate need of more blood," Davidson joked. "Do you remember when that whole city pretended that kid was Batman because he was, like, sick? That's what this feels like."
Davidson often shows up on Update, as himself, to tell jokes about his life. He's always been up front and honest about topics like his mental health, his family, and his looks. It seems like proposing to a pop star hasn't changed any of that, though he is blond now.
In a pre-taped short, "New Look," the cast member Kyle Mooney gets jealous of Davidson's new level of attention, so he makes himself over to look (and act…and medicate) just like Pete, and even finds himself a celebrity girlfriend: Wendy Williams. But Studio 8H isn't big enough for the both of them, so they square off in a Gladiator-style fight to the death. Adam Driver gets shot in the leg. It's pretty amusing!
Watch both clips here:
A small request: Grande had to drop out of being the musical guest for this episode, but can she come back later in the season to reprise her flawless Jennifer Lawrence impression?
Related: Matt Damon Played Brett Kavanaugh On SNL
All of the Celebrities Who Have Gotten Married In 2018 (So Far)