See Model Caroline Brasch Nielsen's Stunning Wedding Overlooking the Copenhagen Canals
Pernille Teisbaek, Veronika Heilbrunner, and Justin O'Shea were all there to celebrate Caroline Brasch Nielsen's marriage to chef Frederik Bille Brahe.
---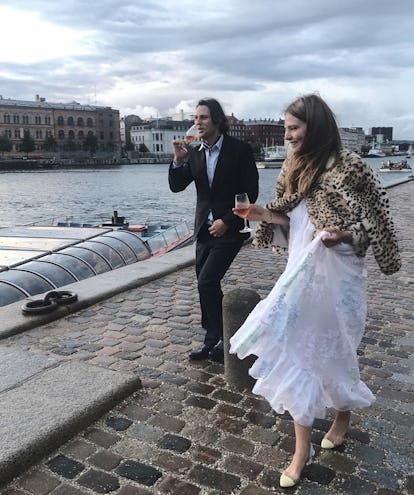 Courtesy of @caroline_brasch
It's summer, which means it's the peak season for fashion weddings: This year has already seen the highly Instagrammable weddings of Emily Ratajkowski, Emma Leth, and Tabitha Simmons. And over the weekend, the Danish model Caroline Brasch Nielsen and her fiancé, the chef Frederik Bille Brahe (good luck combining those names), tied the knot in her hometown of Copenhagen. The ceremony was attended by friends like Veronika Heilbrunner and Justin O'Shea; Pernille Teisbaek; Bille Brahe's jewelry designer sister, Sophie; and more—and it was all, of course, substantially documented on their respective Instagrams. (Importantly, also in attendance was the couple's dog, a border collie named Skat.)
For the ceremony, which overlooked the canals of the Danish capital and involved a boat trip across the water, Brasch Nielsen and her 10 bridesmaids all wore looks by the ANDAM Prize nominee and fellow Dane Cecilie Bahnsen, whose show Nielsen recently walked in. The bride's dress was a custom, flower-embellished confection with puffy sleeves and a ruffle-trimmed skirt; the bridesmaids wore pieces from Bahnsen's recent pre-spring 2019 collection.
Ten years ago, Brasch Nielsen was famously scouted at a pizza place in Copenhagen, igniting a career that has seen her model for Fendi, Chanel, Dries Van Noten, Yves Saint Laurent, Givenchy, and Balenciaga. She was the face of Marc Jacobs, Valentino, and fragrances for Fendi and Chloé; most recently, she opened a vintage shop whose stock comprises pieces she's picked up around the world. She and Bille Brahe met when she modeled for his sister's jewelry line five years ago, and they moved in together last February. Bille Brahe is a London-trained chef who gave up cooking to become a DJ, before returning to the industry when he opened his own restaurants, Atelier September and Apollo Bar & Kantine, now two of Copenhagen's favorite haunts. And he's now one half of one of fashion's favorite low-key couples. See their wedding from every angle, below.