Television's Highest-Paid Actress List is Much More Diverse Than Film
Television's highest-paid actress list includes Priyanka Chopra, Julia Louis-Dreyfus​, and Sophia Vergara
---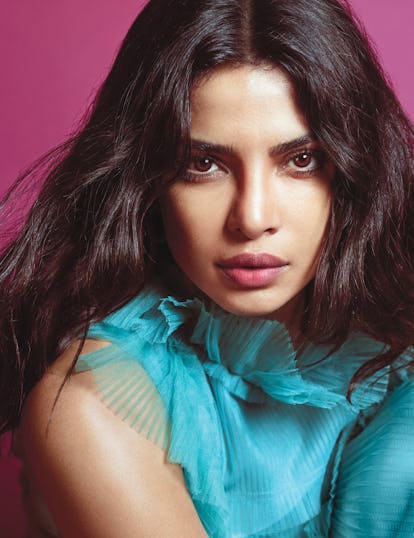 Photographs by Mario Sorrenti, Styled by Edward Enninful.
Last month, Forbes released its list of the highest-paid actresses in film. It was a list almost as white as the background of the web page on which it was written. The only two actresses of color to make the list, Deepika Padukone and Fan Bingbing, are the current queens of Bollywood and Chinese cinema respectively. Though they've both dabbled in Hollywood, neither are A-listers here, and neither are making most of their money here.
Well, Forbes followed up the list today with their rankings of the highest-paid actresses on television, and it's much more inclusive.
Proud Colombian-American Sofia Vergara not only makes this list but the estimated $43 million a year she makes rivals the $46 million payday of film's highest paid actress, Jennifer Lawrence.
"It's not her role as Gloria Delgado-Pritchett that is responsible for her 66 percent earnings bump over last year," writes Forbes. "Rather it's endorsement and licensing deals…that have proven the most fruitful."
Apparently, Vergara even has a deal to promote a line of nurses uniforms. Who knew that nurse uniform lines were even handing out endorsement lines, let alone to Vergara. Wouldn't that make more sense for, say, a star of General Hospital? Clearly, Vergara's accountant wouldn't think so.
Meanwhile, Mindy Kaling, Kerry Washington, and Priyanka Chopra also make the 15 person list.
It's also worth noting that the average age of woman on the TV list about 5 years older than the woman on the film list. In fact, not a single woman over 50 made the film list. Four entrants on the TV list have all reached the half-century mark.
On the flip side, not a single woman in her 20s made the TV list.
We'd also be remiss not to point out that the TV list also features a higher number of actresses who are currently reigning as one of W's "New Royals." Both Chopra and Julia Louis-Dreyfus grace our pages this month.
It's not exactly a secret that television seems to be offering more interesting roles to actors and actresses of almost all types these days. Compare the diversity of the Emmy nominations to the Oscar's controversially all white acting nominations from earlier this years.
Sofia Vergara — $43 million
Kaley Cuoco — $24.5 million
Mindy Kaling — $15 million
Ellen Pompeo — $14.5 million (tie)
Mariska Hargitay — $14.5 million (tie)
Kerry Washington — $13.5 million
Stana Katic — $12 million
Priyanka Chopra — $11 million
Julianna Margulies — $10.5 million
Julie Bowen — $10 million
Pauley Perrette — $9.5 million
Patricia Heaton — $8.5 million
Emily Deschanel — $7.5 million (tie)
Julia Louis-Dreyfus — $7.5 million (tie)
Zooey Deschanel — $7 million
Watch Priyanka Chopra describe her crushing style.