How Does Princess Eugenie Know All Those Celebrities Anyway?
Well, she IS Fergie's daughter.
---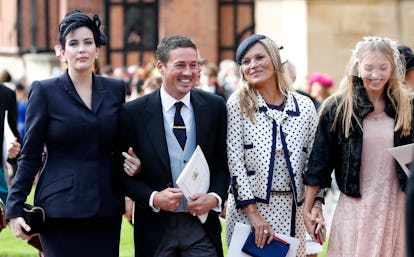 WPA Pool
In the grand scheme of things, anyone who attends a royal wedding is basically a VIP, but the wedding of Princess Eugenie and Jack Brooksbank certainly brought out a lot of the celebrity variety. Sure, her cousin Prince Harry's wedding guest list included Oprah Winfrey, George Clooney, and Victoria Beckham, but Eugenie's wedding bested it in the celebrity guest component—in quantity, anyway. A who's who of boldfaced names, including but not limited to Cara Delevingne, Kate Moss, Naomi Campbell, Liv Tyler, Demi Moore, Robbie Williams, James Blunt (also at Prince Harry's ceremony), Ellie Goulding (ditto), and (deep breath) Ricky Martin all attended the wedding. You might be wondering how, exactly, it is that Eugenie came to know all these varied VIPs from across the world and industries.
The answer is twofold. Although Princess Eugenie is one of only two "blood princesses" of her generation (along with her sister, Beatrice), she's still expected to provide for herself, technically, at least. She isn't expected to undertake many royal engagements, and hence doesn't receive an allowance from the privy purse. Instead, she works as a director for the international art gallery Hauser & Wirth (which has a London space), and previously lived in New York for a year, working for the online auction house Paddle8. A career selling art (and her royal connections, no doubt) puts her in plenty of situations where she can hobnob with other VIPs at the upper echelons of society much more freely than, say, her cousins.
There's also the fact that she's the daughter of Sarah Ferguson, Duchess of York, a globe-trotting socialite in her own right who has amassed many a celebrity pal in her years.
Though we may not know the details of what happened every time Eugenie came across a model or musician in the VIP section of one party or another, here's what we can dig up about how, exactly, she's connected to her celebrity guests.
Cara Delevingne: For one thing, Delevingne and Eugenie are reportedly members of the same high-class London gym, the women-only Grace Belgravia gym (fees are £5,500 a year). The pair were also spotted partying together back in 2015 at a party for Love magazine, and Delevingne appeared in the infamous film Tulip Fever alongside Chelsea Davys, a close friend of Eugenie's (and, incidentally, one of Prince Harry's exes).
Naomi Campbell: Chalk this one up to Mom. Fergie and the supermodel go way back, and the duchess is a regular at Campbell's annual Fashion for Relief event (even once walking the runway).
Kate Moss: Another Friend of Fergie. Kate has been spotted together with Ferguson numerous times, even on group vacations in Greece and Italy.
Demi Moore: Well, according to some gossip, the actress once briefly dated Prince Andrew, Eugenie's father. According to the reports, it was Ferguson who introduced them; the pair goes back, as both were in attendance at a birthday party that Naomi Campbell threw for her former Russian billionaire boyfriend Vladimir Doronin in 2012.
Liv Tyler: The actress is engaged to Dave Gardner, a British businessman who is family friends with the Yorks.
Ricky Martin: Well, they attended an Art Basel Miami Beach party together once. We guess an art connection makes sense, considering Martin's own fiancé, Jwan Yosef, is an artist.
Ellie Goulding: The origins of the friendship are unclear, but it does appear to be one of the most genuine. Eugenie and Golding have double dated, and Goulding once safari'd with Eugenie's sister, Beatrice.
James Blunt: Dude just seems to be friends with all the young royals, including Prince Harry and Princess Beatrice.
Robbie Williams: Apparently, the British pop star was friends with Fergie first, but invited Eugenie and her sister to a Eurovision viewing party in 2011 and has been close with them as well. Eugenie regards him as the "brother she never had."
Princess Eugenie's Royal Wedding: See What Everyone Wore, From Meghan Markle to Kate Moss
Meghan, Duchess of Cambridge arrives ahead of the wedding of Princess Eugenie of York to Jack Brooksbank at Windsor Castle on October 12, 2018, in Windsor, England.

WPA Pool
Kate Moss and Lila Grace Moss Hack ahead of the wedding of Princess Eugenie of York and Mr. Jack Brooksbank at St. George's Chapel on October 12, 2018, in Windsor, England.

WPA Pool
Demi Moore arrives ahead of the wedding of Princess Eugenie of York and Mr. Jack Brooksbank at St. George's Chapel on October 12, 2018, in Windsor, England.

WPA Pool
Holly Valance arrives ahead of the wedding of Princess Eugenie of York and Mr. Jack Brooksbank at St. George's Chapel on October 12, 2018, in Windsor, England.

WPA Pool
James Blunt and Sofia Wellesley arrive ahead of the wedding of Princess Eugenie of York and Mr. Jack Brooksbank at St. George's Chapel on October 12, 2018, in Windsor, England.

WPA Pool
Emma Joy Kitchener and Julian Fellowes arrive ahead of the wedding of Princess Eugenie of York to Jack Brooksbank at Windsor Castle on October 12, 2018, in Windsor, England.

WPA Pool
Pixie Geldof and George Barnett arrive ahead of the wedding of Princess Eugenie of York to Jack Brooksbank at Windsor Castle on October 12, 2018, in Windsor, England.

WPA Pool
Queen Elizabeth II arrives ahead of the wedding of Princess Eugenie of York and Mr. Jack Brooksbank at St. George's Chapel on October 12, 2018, in Windsor, England.

WPA Pool
Zara Tindall and Mike Tindall arrive ahead of the wedding of Princess Eugenie of York and Mr. Jack Brooksbank at St. George's Chapel on October 12, 2018, in Windsor, England.

WPA Pool
Liv Tyler arrives ahead of the wedding of Princess Eugenie of York to Jack Brooksbank at Windsor Castle on October 12, 2018, in Windsor, England.

WPA Pool
Princess Anne, Princess Royal and husband Timothy Laurence attend the wedding of Princess Eugenie of York to Jack Brooksbank at St. George's Chapel on October 12, 2018, in Windsor, England.

WPA Pool
Holly Branson arrives ahead of the wedding of Princess Eugenie of York to Jack Brooksbank at Windsor Castle on October 12, 2018, in Windsor, England.

WPA Pool
Peter Phillips and Autumn Phillips attend the wedding of Princess Eugenie of York to Jack Brooksbank at St. George's Chapel on October 12, 2018, in Windsor, England.

WPA Pool
Karoline Copping and Jimmy Carr arrive for the wedding of Princess Eugenie of York and Mr. Jack Brooksbank at St. George's Chapel on October 12, 2018, in Windsor, England.

WPA Pool
Tamara Beckwith arrives ahead of the wedding of Princess Eugenie of York and Mr. Jack Brooksbank at St. George's Chapel on October 12, 2018, in Windsor, England.

WPA Pool
Ellie Goulding arrives for the wedding of Princess Eugenie of York to Jack Brooksbank at St. George's Chapel on October 12, 2018, in Windsor, England.

WPA Pool
Chelsy Davy arrives ahead of the wedding of Princess Eugenie of York to Jack Brooksbank at Windsor Castle on October 12, 2018, in Windsor, England.

WPA Pool
Naomi Campbell and Debbie von Bismarck arrive ahead of the wedding of Princess Eugenie of York to Jack Brooksbank at Windsor Castle on October 12, 2018, in Windsor, England.

WPA Pool
Poppy Delevingne arrives ahead of the wedding of Princess Eugenie of York and Mr. Jack Brooksbank at St. George's Chapel on October 12, 2018, in Windsor, England.

WPA Pool
Catherine, Duchess of Cambridge and Prince William, Duke of Cambridge arrive ahead of the wedding of Princess Eugenie of York to Jack Brooksbank at Windsor Castle on October 12, 2018, in Windsor, England.

WPA Pool
James Matthews and wife Pippa Middleton arrive ahead of the wedding of Princess Eugenie of York and Jack Brooksbank at St. George's Chapel on October 12, 2018, in Windsor, England.

WPA Pool
Sarah, Duchess of York and Princess Beatrice arrive ahead of the wedding of Princess Eugenie of York and Jack Brooksbank at St. George's Chapel on October 12, 2018, in Windsor, England.

WPA Pool
Robbie Williams and Ayda Field attend the wedding of Princess Eugenie of York to Jack Brooksbank at St. George's Chapel on October 12, 2018, in Windsor, England.

WPA Pool
Cara Delevingne arrives ahead of the wedding of Princess Eugenie of York and Jack Brooksbank at St. George's Chapel on October 12, 2018, in Windsor, England.

WPA Pool