Karlie Kloss and Joshua Kushner Took a Royal Trip to the Desert With Princess Beatrice
Another day, another group of A-list friends traveling to a chic locale without you.
---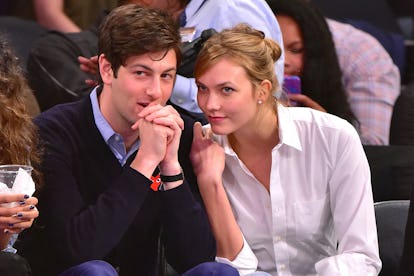 James Devaney/Getty Images
Another day, another group of A-list friends traveling to another chic locale without you. This time, the supermodel Karlie Kloss took a break from coding to take a royal vacation with Princess Beatrice of York to Wadi Rum, a desert in Jordan.
Kloss's boyfriend, Joshua Kushner (brother of Jared Kushner), joined the vacation crew, along with the pop star Ellie Goulding and her art-dealer beau, Caspar Jopling, the American actress Nora Kirkpatrick (she appeared on The Office and had a two-season arc on the Freeform dramedy Greek), and her husband, Bryn Mooser. Misha Nonoo, a designer and close friend of Meghan Markle, captured the vacation on Instagram Stories, highlighting Goulding as she sang songs and strummed her guitar for her friends and took ATV trips through the sand.
Princess Beatrice was not the only royal present on the trip, either—23-year-old Crown Prince Hussein, heir apparent to the throne of Jordan, can be spotted on Nonoo's Instagram Story in a photo of the entire group posing in the desert.
Attempting to draw up a map to connect this seemingly random group of A-list individuals and figure out how they all know each other would be daunting, but a few connections are clear: Goulding performed for Prince William and Kate Middleton's wedding, in 2011, and her boyfriend attended Eton College (the same school as Prince Harry and Prince William). The story behind how Princess Beatrice met Kloss remains unearthed, but there is some notable history between the two: The royal was spotted with Kloss and Ivanka Trump at the U.S. Open in 2016, just two months before the presidential election, and again later that month, at a wedding in France.
Kloss and the young royal appear to get along swimmingly, according to Nonoo's snaps of the vacation, and the supermodel also shared a photograph of herself and Kushner on ATVs (she referred to her beau as her "ride or die"). The couple's trip to Jordan comes just days after they visited Israel, and months after Kushner's brother, Jared, was ordered by Donald Trump to "produce peace" in the Middle East. Though the two tend to decline publicly commenting on White House politics, Kushner and Kloss recently signaled that they have their own agenda by attending the March for Our Lives in Washington, D.C.
It has been speculated that Nonoo's connection to England's royal family paved the way for her to introduce Markle to Prince Harry, and she will likely appear at the royal wedding on May 19, but the designer's representatives have insisted she "will not be discussing anything surrounding her relationship with Meghan," according to People.
There is one royal missing from the desert vacation, though—Princess Eugenie, who previously worked for the art auction house cofounded by Nonoo's ex-husband, Alexander Gilkes (also a close friend of Prince Harry and former Eton College student). While her sister was vacationing in the desert with models, pop stars, and a White House–adjacent millionaire, Princess Eugenie was spotted in London wearing her new engagement ring, and might have been performing her cousinly duties of congratulating Prince Louis Arthur Charles on his entry into the world.
Related: Prince William and Kate Middleton Reveal the Name of Their Son: Prince Louis Arthur Charles