Is Sarah Ferguson Finally Ready for Her Royal Comeback?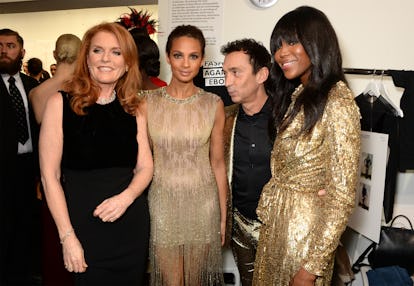 David M. Benett
For a certain breed of longtime royal watcher, the most intriguing guest at Prince Harry and Meghan Markle's royal wedding may be Sarah Ferguson, Duchess of York, the most scandal-prone royal ex of her time. Armed with an invitation to her first royal wedding in years, reportedly thanks to a specific intervention undertaken by Prince Harry himself, and a starring role in the next royal wedding as mother of the bride (daughter Princess Eugenie will marry Jack Brooksbank in October), Ferguson, long known in the press by the nickname Fergie, may be set for an all-but-official royal comeback.
The British tabloid press is already awash with an unusual amount of positive coverage about the Duchess, and no doubt she would be a cult fan favorite as a character on upcoming seasons of Netflix and BBC megahit The Crown. There's also long been speculation that her unusually close relationship with ex-husband Prince Andrew could lead to an eventual remarriage, a situation that would be that much easier now thanks to the effect the birth of Prince Louis had on royal protocol. It's quite the glow up for the woman who was once the subject of the toe-sucking picture seen round the world.
Taming an Actress-chasing Prince
Thirty two years ago, Ferguson found herself in the same exact situation that Meghan Markle finds herself in now: marrying the former party boy younger brother of a future king. Before Ferguson, Prince Andrew, somewhat ironically, was known as something of a chaser of models and actresses (some of whom were American). He was linked to Catherine Oxenberg, the Dynasty actress and daughter of a Yugoslavian princess; Finola Hughes, who, incidentally, was his distant cousin and who may be best remembered for going on to host makeover program How Do I Look?; and Vicki Hodge, an actress known for movies like Confessions of a Sex Maniac and a former girlfriend of a few English rockers. Though, it was Koo Stark, an American actress, who was his most serious pre-Ferguson girlfriend. Stark, however, had appeared topless in the artsy avant-garde film Emily, an incident that caused the notoriously catty British tabloid press to label her incorrectly (and rather prudishly) a soft-core pornographic actress. The pressure was too much for the couple to bear, and in 1985 Andrew began seeing Ferguson, reportedly with the encouragement of Princess Diana.
Ferguson, though not of noble blood, did have royal connections. Her father, a former military captain, served as polo manager for both Prince Philip and, later, Prince Charles. She originally met Prince Andrew when they were children and played tag together in the polo fields. When they began dating, Ferguson herself reportedly didn't imagine it would result in her joining the royal family. According to a 1987 Vanity Fair article, Ferguson, then in her mid-20s with an established career in publishing, saw it perhaps as more of something of a fun fling until Andrew proposed within a year. Her royal fate was sealed.
The Queen's Favorite Daughter-in-Law, for a Time
Though the pair got along well personally, to the public Duchess Fergie provided something of a complimentary foil to Princess Diana. If blonde Diana was glamorous but coolly distant, Ferguson was the relatable Duchess next door with an ease at public speaking that Diana lacked. She also reportedly charmed the rest of the royal family better than Diana ever did. She bonded with Queen Elizabeth over their mutual love for horses, and the pair would often spend free nights together and were seen side by side at public appearances frequently. It's popular opinion in England that while Prince Charles may be the future king, it is Prince Andrew who is her favorite son. In her memoir, Ferguson revealed that she privately referred to the queen as "Mama." Prince Philip was won over by a shared rowdy sense of humor. At the start, it seemed that the Queen and her husband certainly counted Ferguson as their favorite daughter-in-law. Then again, Ferguson wasn't under pressure to live up to the idea of someday being Queen consort.
Though the pair produced two daughters, Andrew and Fergie's marriage began showing signs of strain by the early '90s. Prince Andrew at the time served as a commander in the British Navy and was often away for long stretches. The couple announced their separation in January 1992 (royal rumor lore holds that originally Diana and Ferguson made a pact to leave their husbands at the same time, but Diana backed out). In her memoir, Ferguson claims the Queen asked her to give it another try and that she still talked to the Queen often during the initial months of the separation. Though, in August of that year, explosive photographs of Ferguson on vacation with American businessman John Bryan were published. The Duchess was seen sunbathing topless, and in one shot, Bryan was sucking her toes. According to reports, despite the separation, Ferguson was with the rest of the royal family at Balmoral Castle in Scotland when the photos were published. The Queen suggested she return to London immediately (Prince Philip's reaction was apparently rather more fiery), and though her divorce with Prince Andrew didn't become official until 1996, Ferguson has been effectively persona non grata among the royal family since then.
Weight Watchers and Scandals
If Diana's postdivorce life was marked by tragedy, Ferguson's was marked by farce. She had amassed deep debts, and the Queen refused to pay them on her behalf. To make a living, she traded in on her high-profile status and become a long-term spokeswoman for Weight Watchers, along with other deals with Avon. A later move into reality television entitled The Duchess on the Estate, in which she advised lower income families, was criticized as tone deaf and beneath her. In 2010, her reputation further disintegrated when video of a British tabloid sting showed Ferguson apparently attempting to sell access to her ex-husband (Ferguson maintained that the footage was doctored). And in 2016, her name appeared in the Panama papers. Her reputation for poor finances has become so infamous that on The Windsors, a popular British comedy series that recasts the actual royals as satirical soap opera characters, Ferguson has been turned into an interloping character whose desperate desire for royal acceptance often clashes with her need to turn a quick buck whenever possible. In the show's recent wedding special, her character finally gets the acceptance she craves in the form of an invite, but quickly realized she could make money off the affair by commenting on the wedding on television instead.
Though, in recent years, both Ferguson's finances and public profile seem to have stabilized. She's a frequent guest at international social affairs (if not for the royal wedding it's likely she would have attended the glamorous amfAR gala in Cannes, where she's been a familiar face in recent years). She's also active with a number of charities.
A Continued Relationship With Prince Andrew
More interesting, however, is the fact that Ferguson reportedly still lives with her ex-husband in the Royal Lodge. The pair frequently vacation together, and Prince Andrew is often pictured on the Duchess's Instagram page. In 2013, when Ferguson was asked if remarriage was in the cards, she merely said, "He's still my handsome prince; he'll always be my handsome prince." Even the British gossips can't quite parse the exact nature of their relationship, but, hey, traditional notions of monogamy and labeling relationships are so last century, anyway.
The Queen, too, seems to have retained her soft spot for Ferguson. Decades after she was exiled from the castle, Ferguson is now a regular invited guest of the Queen's at Balmoral alongside her ex and their two daughters. The only catch is that while Ferguson is now welcomed at some royal family functions, she's expected to leave before Prince Philip arrives. He apparently still harbors a grudge against his former daughter-in-law and has never forgiven her. It's said that both Prince Charles and Prince William side with Philip on the matter, and it perhaps explains why Ferguson was snubbed from so many royal wedding guest lists. She didn't get an invite to William's 2011 marriage to Kate Middleton, nor was she invited to the royal weddings of Princess Anne's children, Peter and Zara (the snubs may have hit even harder considering William, Peter, and Zara all served as page boys or bridesmaids in Ferguson's own wedding).
Prince Harry Intervenes
It was expected that she could be snubbed again at Harry's wedding, but, according to the British tabloids, Prince Harry himself made sure that she made the cut. He appears to have a soft spot for his aunt, and certainly can sympathize with being a royal redhead bouncing back from scandal. There's not that much difference between getting photographed sunbathing topless having your toes sucked and being photographed in the nude while playing strip billiards in Las Vegas, after all. Harry has even reportedly introduced Markle to Ferguson ahead of the wedding.
While much has been made of Ferguson's snub from the evening reception (which is being organized by Prince Charles), don't miss the forest for the trees. Any invite at all is still a major coup for Ferguson.
Incidentally, the royal rehab comes just months after Prince Andrew was bumped to seventh in line to the throne after the birth of Prince Louis. Only royals in those first six positions need an official proclamation from the Queen in order to marry. While it may be jumping the gun to assume that Andrew and Ferguson may ever remarry, it suddenly just got a lot easier for them to do so. It also comes at a time when the exact future of Ferguson's two daughters Eugenie and Beatrice is being called into question. While the Royals have publicly dismissed any strife, the British tabloids have been afire over the past year with stories that Prince Charles's desire to trim down the royal duties of secondary royals and encourage them instead to pursue outside careers has clashed directly with Prince Andrew's own hope for his daughters.
Whatever Ferguson's future may hold, in the 26 years since she was effectively banished from the royal family she's certainly made a stunning return into the inner sanctum of the royals. At the very least, we can't wait for her debut on The Crown.
Related: Meghan Markle's Mom and Oprah Hung Out for Six Hours, Reportedly Planning a Tell-All Interview on Racism