Meghan Markle's Mom and Oprah Hung Out for Six Hours, Reportedly Planning a Tell-All Interview on Racism
Doria Ragland is set to shine an international spotlight on the nonstop racist abuse her daughter's been publicly subjected to ever since getting involved with Prince Harry.
---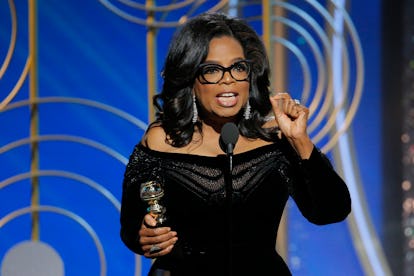 Getty Images
Finally, after months and months of talk about Meghan Markle and Prince Harry's engagement, the royal wedding is less than two weeks away. For the couple, that's meant putting plenty of final details in order—narrowing down the invite list, making decisions about their best man and maid of honor, carefully selecting bee-friendly flower arrangements. At the same time, their families have been busy with their own preparations; Markle's parents, Thomas Markle and Doria Ragland, for example, are both getting ready to head off to the U.K. to spend the week prior to the wedding with Prince Harry's family, including the Queen.
Before going overseas, though, Markle's 61-year-old mother made an important stop: Last week, she reportedly spent six hours in the company of Oprah Winfrey at Winfrey's home in California (which the Daily Mail took care to note is worth $88 million). If the rumors are true, though, this wasn't the friendly, congratulatory visit you might expect; the yoga instructor and social worker was reportedly there to plan a tell-all interview with Winfrey to speak out about the racist abuse Markle, who's biracial, has repeatedly been subjected to since getting involved with Prince Harry.
The hate toward Markle started pouring in even before their engagement in November, though it's certainly picked up even more since then—even from the royals themselves. The most prominent instance of the latter came in December, when Princess Michael of Kent, the wife of the Queen's first cousin, wore a racist brooch to the first of the Queen's annual pre-Christmas lunches that Markle attended. Less than two months later, in February, Markle received a letter that reportedly contained a "racist message" and led to an anthrax scare. And earlier that month, Twitter suspended the Republican congressional candidate Paul Nehlen for writing another racist message about Markle.
It's no surprise, then, that according to a source, over the course of Winfrey and Ragland's "long time chatting"—they apparently "get on really well"—"the most important and significant issue they spoke about was race and how badly some people had reacted to Meghan and Harry." The source continued that all family members have found it to be "disgusting" and horrifying, and pointed out that it's "an issue close to both Doria and Oprah," who as African Americans have both been subjected to racism. (If things continue to go the way they have for Markle, it unfortunately seems like Ragland will be victim of some of the same mistreatment as her daughter, as Markle took care to create a role for her mother in the wedding.)
The interview would certainly be groundbreaking, but don't get your hopes up just yet; it'd reportedly first need to gain the approval of Prince Harry, Markle, and Buckingham Palace. Reassuringly, Kensington Palace has previously supported Prince Harry's defense of Markle by releasing his statement, which even he called "unusual," in addressing how Markle has been "subject to a wave of abuse and harassment," including "racial undertones of comment pieces," and "the outright sexism and racism of social media trolls and web article comments."
Even if the Winfrey-Ragland interview doesn't come to fruition, it can't hurt the Markles to have Winfrey on their side. She's not alone in supporting the family: For months now, there have also been murmurs that the royal wedding could even change centuries of racism and classism in Britain. That may be a bit ambitious, but if the wedding does prompt more constructive race-related conversations, it'd most definitely be a start. (Or at the very least an end to headlines like "How in 150 years, Meghan Markle's Family Went From Cotton Slaves to Royalty," which actually included a handmade family tree that outlined, for example, Ragland's "Dirt Poor in the Deep South" side of the family.))
Related: Meghan Markle Was Not Sent Anthrax, But Still Faces Very Real Threats