Meghan Markle's Christmas Lunch With the Queen Was Attended By a Racist-Brooch-Wearing Princess
Princess Michael of Kent has been accused of racist behavior in the past.
---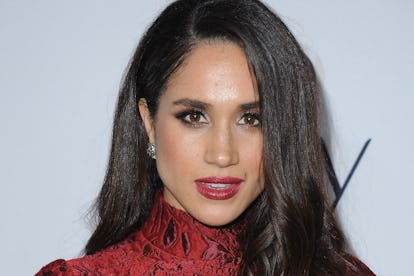 Jon Kopaloff/FilmMagic/Getty Images
Meghan Markle was having an all-around amazing Christmas. On Wednesday, the future bride of Prince Harry joined around 50 members of the royal family at the Queen's annual pre-Christmas lunch. This was the first time she was having lunch with the entire royal family, and to celebrate the momentous occasion she donned a gorgeous dress in black-and-white guipure lace.
And then an otherwise picture-perfect occasion was marred by someone else's fashion faux pas—which might be the understatement of the year. According to People, Princess Michael of Kent, the wife of the Queen's first cousin, showed up wearing a racist brooch.
This brooch is a piece of "blackamoor" jewelry, a decorative piece that depicts black bodies as exotic nobles and servants. According to an article on NYU's website, "blackamoor" images "personify fantasies of racial conquest" and can be compared to racist American depictions like the Aunt Jemima doll and the lawn jockey.
So the fact that Princess Michael is wearing this brooch at all, but especially to lunch with Meghan Markle, who is biracial, is obviously offensive. Markle has been subjected to racist headlines and comments from the British press since news broke that she was dating Prince Harry, but for it to come from a royal family member is simply unconscionable, and Prince Harry has had to publicly defend her to the tabloids.
This isn't the first time Princess Michael has been accused of racist behavior. According to People, she allegedly told a group of black diners in New York to "go back to the colonies." In response to the reported incident, she only made things worse by saying, "I even pretended years ago to be an African, a half-caste African, but because of my light eyes I did not get away with it, but I dyed my hair black."
Here's hoping that sort of nonsense gets left behind in 2017. Somehow, though, we doubt it.