Meghan Markle Made a Diplomatic Choice Concerning Her Maid of Honor
She reportedly couldn't choose just one best friend.
---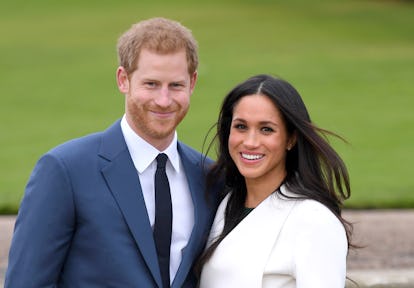 Karwai Tang/WireImage
With two weeks to go until the big day, new announcements concerning Meghan Markle's wedding to Prince Harry are still coming down the royal pipeline.
In April, Kensington Palace announced that Prince Harry had chosen his brother, Prince William, as the best man for the wedding (Harry served as the best man for the Duke of Cambridge's wedding to Kate Middleton, in 2011, so the choice was to be expected), but a palace spokesperson has just revealed that Meghan Markle will opt out of having a maid of honor. The future princess is reportedly too kind to select just one best friend to serve in the wedding party, so she decided not to choose one at all. "She has a very close-knit circle of friends, and she didn't want to choose one over another," the spokesperson said to People. "All have been actively involved in helping her prepare for the day and will be there in the days beforehand. She's very happy to have their support."
At the wedding, Markle's bridal party will be typical of a royal bridal party—Prince George and Princess Charlotte are expected to participate among the yet-to-be-announced group of page boys and bridesmaids. Markle's close friends Priyanka Chopra, Misha Nonoo, and Jessica Mulroney are expected to attend and support the bride. She will be walked down the aisle of St. George's Chapel by her father, Thomas Markle, who will meet Prince Harry for the first time in the days leading up to the wedding. "Both of the bride's parents will have important roles in the wedding. On the morning of the wedding, Ms. Ragland [Markle's mother] will travel with Ms. Markle by car to Windsor Castle. Mr. Markle will walk his daughter down the aisle of St. George's Chapel," Kensington Palace announced Monday morning. "Ms. Markle is delighted to have her parents by her side on this important and happy occasion."
Lady Jane Fellowes, sister of the late Princess Diana, will give a reading during the ceremony, and Princess Diana's other siblings will be in attendance as well, according to Us Weekly.
The hour-long service will conclude with the newlyweds being whisked away in an Ascot Landau carriage. But the honeymoon will have to wait. "They will have their first engagement as a married couple in the week after the wedding," according to Kensington Palace spokesperson Jason Knauf. The royal couple is reportedly planning a vacation to the Hoanib Valley Camp in Nambia, but Kensington Palace has confirmed that the trip will be delayed, so don't hold your breath for those royal honeymoon snaps on Instagram just yet.
Related: Meghan Markle Is a "Princess for the People" According to Priyanka Chopra