Prince Harry Has Officially Chosen a Best Man for the Royal Wedding: His Brother, Prince William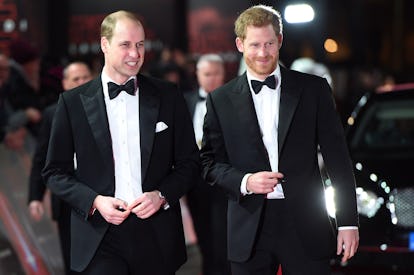 Eddie Mulholland/Getty Images
Prince Harry has finally revealed who will be his best man at his wedding to Meghan Markle. Harry has chosen his older brother Prince William to have the honor of standing by his side. Sure, practically everyone expected it. But now it's official with a statement from Kensington Palace.
"Prince Harry has asked his brother The Duke of Cambridge to be his Best Man at his wedding to Ms. Meghan Markle," Kensington Palace announced on Thursday, April 26. "The Duke of Cambridge is honored to have been asked, and is very much looking forward to supporting his brother at St. George's Chapel, Windsor on May 19th."
Reports first began surfacing that the Duke of Cambridge was up for the royal wedding role soon after Prince Harry and Meghan Markle's engagement was announced. "Harry has several close guy friends, but there's no way he would ask anyone but William to take on the top job," a source told Us Weekly back in December.
And, you'd have to admit, the speculation made sense. Even though the role of best man typically doesn't exist in British royal weddings (grooms traditionally have supporters), Prince William chose Harry for the job when he wed Kate Middleton in 2011, and it was expected that Harry would do the same.
But in January, William said that his younger brother had not asked him to be best man. "He hasn't asked me yet, just to clear that up," the Duke of Cambridge told radio host Roman Kemp, per E! News. "It could be a sensitive subject!"
William then elaborated on just how close he and his brother are though, in part due to having to deal with the death of their mother, Princess Diana, side-by-side. "Our relationship is closer than it's been because of the situation we've been through," he said. "Losing our mother at a young age, it's helped us travel through that difficult patch together. You're like-minded. You go through similar things—it's a bond, and it's something you know you've tackled together and come out better for it."
"That's the thing about being a best mate," he continued. "Inevitably one of you is sometimes on an up, while the other is on a down. You're always there for each other and repaying that favor."
And now, William's about to do just that for Harry, as his best man.
25 Intimate Portraits Of the British Royal Family, From King George VI to Young Prince George
The Royal Family on the balcony at Buckingham Palace after the coronation of King George VI of England. Photo by Hulton-Deutsch Collection/CORBIS/Corbis via Getty Images.

Hulton Deutsch
King George VI with his daughters Princess Elizabeth and Princess Margaret in the grounds of Windsor Castle in Windsor, England on July 08, 1946. Photo by Lisa Sheridan/Studio Lisa/Getty Images.

Lisa Sheridan
Princess Elizabeth working on her studies at a desk in Windsor Castle. Photo by Lisa Sheridan/Studio Lisa/Getty Images.

Lisa Sheridan
Princess Margaret and Antony Armstrong-Jones in the grounds of Royal Lodge on the day they announced their engagement. Photo by Hulton Archive/Getty Images.

Hulton Archive
Princess Margaret walks with her husband Earl of Snowdon on a pontoon in the Bahamas. Photo by DALMAS/AFP/Getty Images.

DALMAS
Queen Elizabeth II with a group of local children during her state visit to Mexico, 1975. Photo by Serge Lemoine/Getty Images.

Serge Lemoine
Queen Elizabeth II and Prince Philip on safari during their state visit to Zambia, 1979. Photo by Serge Lemoine/Getty Images.

Serge Lemoine
Prince Andrew in the 1980's. Photo by Keystone-France/Gamma-Keystone via Getty Images.

Keystone-France
Diana, Princess of Wales with Sarah Ferguson at the Guard's Polo Club, Windsor, 1983. Photo by Georges De Keerle/Getty Images.

Georges De Keerle
Princess Diana with the Duchess of York during a skiing holiday in Klosters, Switzerland, 1988. Photo by James Andanson/Sygma via Getty Images.

James Andanson
Prince Charles and Lady Diana Spencer with Queen Elizabeth II and Prince Philip on the balcony at Buckingham Palace after their marriage ceremony at St Paul's Cathedral, 1981. Photo by MSI/Mirrorpix/Getty Images.

Mirrorpix
Prince Charles and Diana, Princess of Wales together during their honeymoon in Balmoral, Scotland, 1981. Photo by Serge Lemoine/Getty Images.

Serge Lemoine
Princess Diana, Princess of Wales poses in a bikini while on holiday in the South of France. Photo by Anwar Hussein/WireImage.

Anwar Hussein
Sarah Ferguson, Duchess of York inspecting The Guard Of Honour at R.A.F. Gaton in Berlin, Germany, 1989. Photo by Georges De Keerle/Getty Images.

Georges De Keerle
Duke and Duchess of York, Prince Andrew and Sarah Ferguson on a boat during their visit to Venice, Italy in 1989. Photo by Georges De Keerle/Getty Images.

Georges De Keerle
The Princess Of Wales with her two sons, Prince William and Prince Harry on a chairlift during a ski holiday in Lech, Austria. Photo by Tim Graham/Getty Images.

Tim Graham
Prince of Wales on the slopes in Klosters, Switzerland, where he is on a skiing holiday with his sons Princes William and Harry. Photo by Tim Ockenden – PA Images/PA Images via Getty Images.

Tim Ockenden – PA Images
Princess Diana arriving at the Serpentine Gallery, London, in a gown by Christina Stambolian, 1994. Photo by Jayne Fincher/Getty Images.

Princess Diana Archive
The Duchess of York attends a charity premiere of 'A Little Princess' in London, with her daughters Beatrice and Eugenie, 1996. Photo by Dave Benett/Getty Images.

Dave Benett
Kanye West shares a joke with Prince Harry and Prince William at Wembley Arena in London, 2007. Photo by CARL DE SOUZA/AFP/Getty Images.

CARL DE SOUZA
Prince William, Duke of Cambridge and Catherine, Duchess of Cambridge drive from Buckingham Palace in a decorated sports car on April 29, 2011 after their wedding ceremony in London, England. Photo by Jeff J Mitchell/Getty Images.

Jeff J Mitchell
Catherine, Duchess of Cambridge and Prince William, Duke of Cambridge watch a rodeo demonstration at a Government Reception at the BMO Centre on July 7, 2011 in Calgary, Canada. Photo by Chris Jackson/Getty Images.

Chris Jackson
Princess Beatrice and Princess Eugenie attend the 8th annual charity: ball Gala at the Duggal Greenhouse on December 16, 2013 in New York City. Photo by Michael Stewart/WireImage.

Michael Stewart
Catherine, Duchess of Cambride and Prince William, Duke of Cambridge ride in an open-air jeep on safari around the National Park at Kaziranga National Park on April 13, 2016 in Guwahati, India. Photo by Samir Hussein/Pool/WireImage.

Samir Hussein