Meghan Markle and Prince Harry Are Officially Engaged
It was announced Monday morning that his Royal Highness Prince Harry of Wales and American Suits actress Meghan Markle became engaged earlier this month.
---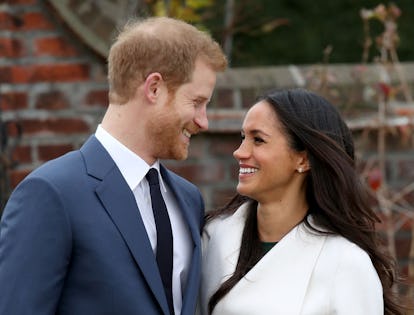 Chris Jackson/Getty Images
Everyone has been waiting with bated breath for this announcement, and it is finally here—a royal wedding is nigh, as Kensington Palace has officially announced that Prince Harry and Meghan Markle are engaged to be married in spring 2018.
For those of you who placed your bets on a holiday engagement announcement, you can cash those checks now. While some had hoped for a Tuesday morning announcement only to wake up to the news this Monday that Prince Harry and Meghan Markle are now engaged, one thing is for sure—lapping up this royal engagement news beats eating Thanksgiving leftovers any day of the week. Prince Harry and Meghan Markle became officially engaged in early November, and held off on the announcement until now, waiting until after the celebration of Queen Elizabeth II's 70th anniversary to Prince Philip. According to the Kensington Palace announcement, blessings were given to the couple on both sides of the family.
Prince Harry and Meghan Markle have been together for nearly a year and a half, and news outlets have been aflutter with engagement rumors for the last several months. According to the New York Post, Markle has been taking princess lessons from Prince Harry, to learn the customary differences between Brits and Americans. In her October cover interview with Vanity Fair, Markle said of the relationship, "We're two people who are really happy and in love. We were very quietly dating for about six months before it became news, and I was working during that whole time, and the only thing that changed was people's perception. Nothing about me changed. I'm still the same person that I am, and I've never defined myself by my relationship."
These future nuptials will mark a lot of firsts, and it will be the first time an American divorcée has married into the royal family (King Edward VIII abdicated the throne to marry Wallis Simpson in1936. Many speculate that it will be hard for an independent-minded American like Markle to marry into the royal family with all of its rules and regulations, and the particularly harsh spotlight fame casts on royals more than it does for the typical celebrity. Earlier this summer, at a television festival in Austin, while on a panel for her USA series Suits, Markle was asked about her intention to marry Prince Harry. She reportedly just smiled and shrugged without giving any comment on her relationship—a graceful response fitting for a future royal.
According to the Kensington Palace, "further details about the wedding day will be announced in due course." Until then, most speculate that there might be a royal wedding in June, after Prince William and Kate Middleton have their third child.
Related: Meghan Markle and Prince Harry Are Fooling No One
The 15 Best-Dressed Royal Kids Around the World