Meghan Markle Gives Royal Response When Asked If She'll Marry Prince Harry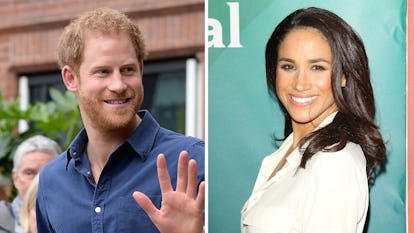 Composite. Getty Images
With Prince William and Kate Middleton married for six years and Pippa Middleton recently wed to James Matthews, all eyes are on Prince Harry and his girlfriend of one year, Meghan Markle, for the next royal wedding bells.
But is a trip down the aisle in the near future for this couple (who have already attended several nuptials together)?
Royal fanatics attempted to get answers at the ATX Television Festival in Austin, Texas, where Markle sat on a panel with her fellow Suits stars and co-creators. The group performed a table read of the USA series' pilot episode and then opened up the floor for questions from the audience. Naturally, one audience member seized the opportunity to glean more information about Markle's royal relationship rather than her acting work, and pressed the actress on whether she hoped to marry Prince Harry.
Markle handled the question with the grace a future monarch, perhaps taking cues from Kate Middleton and even Queen Elizabeth herself—which means, unfortunately, no useful information was shared. Instead, Markle responded with a smile and no words, according to The Telegraph.
Rumors have been swirling about an imminent engagement between Markle and Prince Harry for weeks now. Several U.K. news outlets reported that Prince Harry asked his grandmother, Queen Elizabeth II, for permission to propose (that she supposedly granted). The two are also reportedly gearing up to move in to Kensington Palace together. And based on sources from Pippa Middleton's wedding, Markle and Prince Harry are "really in love." So, even if Markle won't confirm it, the idea of another royal wedding sometime in the near future might not be a bad bet.
Related: Priyanka Chopra Shut Down Wendy Williams for Calling Meghan Markle "Prince Harry's Girlfriend"