Meghan Markle and Prince Harry Could Marry as Early as June 2018, Royal Experts Say
The next royal wedding might be very, very soon.
---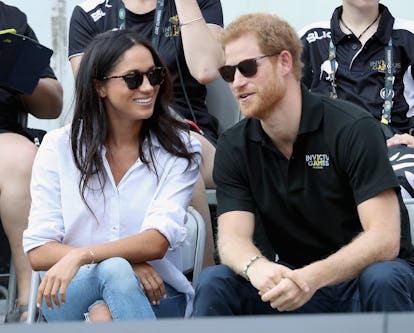 Chris Jackson/Getty Images
Clear your schedule and cancel all of your plans for next summer (unless they involve traveling to London): According to royal experts, Meghan Markle and Prince Harry could be tying the knot as early as next June.
Royal expert Katie Nicholl told Entertainment Tonight on Monday that her own royal sources predict that an engagement announcement will arrive in late December or early January, with the wedding taking place the following summer. "I think particularly with royal engagements, it really is all about the timing," Nicholl said. "You have to remember there are other engagements and events coming up in the royal calendar that an engagement simply couldn't clash with. I think that the new year is probably a more realistic prospect for an engagement announcement."
Prospects for the actual wedding point to June 2018, a few weeks after Princess Kate and Prince William have welcomed their third child, and around the time that Meghan Markle and Prince Harry will be celebrating their second anniversary. "The duchess will have to get her figure back in time for a wedding and Prince William, who we are all assuming will be best man, will need to be available and not thinking about rushing off to a hospital," Nicholl said. "So, I think there will need to be a bit of space between the royal baby being born mid-April and Meghan and Harry tying the knot. This summer is probably going to be the best bet for a royal wedding."
Nicholl also lent her expertise to the rumor that Markle will be making the move from Canada, where she's lived while filming Suits for the past several years, to London next month. "I am told by my sources that Meghan is likely to be moving to London as soon as November," Nicholl said. "She's not signing up for another series of Suits. She's planning to leave Canada and make London her new, permanent home."
Once there, Markle will reportedly move straight to the palace. "Currently, Prince Harry lives at Nottingham Cottage, which is a three-bedroom, small cottage in the [Kensington Palace] grounds. I am told that she will be moving into Kensington Palace—in fact, she already keeps a wardrobe of clothes at Harry's house over in Kensington Palace and she's going to be spending all of her time over here from now on." After the official engagement announcement, Nicholl added, the happy couple will most likely move into a "bigger apartment" on the Kensington Palace grounds.
Rumors of this expedited engagement and wedding timetable follow news that Markle reportedly had tea with Queen Elizabeth II last week. The private get-together is believed to be a sign that Harry's grandmother will cosign on his marriage and, thus, make all of our royal wedding dreams come true.
Related: Prince Harry Doesn't Care What You Want, May Opt for Private Wedding