Prince Harry and Meghan Markle Took Their First Public Pictures As a Couple at Invictus Games Toronto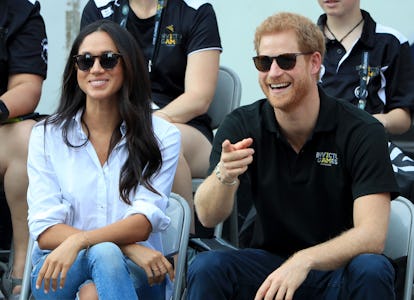 Danny Lawson/PA Images via Getty Images
After over a year of reports about their relationship, Prince Harry and Meghan Markle's romance is finally on display for all to see. The pair not only made their first public appearance together as a couple over the weekend at the Invictus Games in Toronto, today they were caught in their first non-paparazzi photos together as a couple. And, their chemistry is undeniable in the photos. The two sat together to watch a Wheelchair Tennis match, but ended up keeping their eyes mostly on each other, judging by the paparazzi photos that have surfaced. The pair appear to be chatting, joking, and, generally, having a blast in the photos.
While the Wheelchair Tennis match isn't their first official appearance together, it is the first time they've been seated next to one another and photographed as such. Over the weekend, at the kick off for the Invictus Games, Markle watched from the bleachers as Prince Harry made some opening remarks. Notably though, the pair sat separated for the rest of the event with Prince Harry sitting near Melania Trump and Markle sitting next to her close friend Markus Anderson, who reportedly introduced the pair, as The Telegraph notes. At today's Wheelchair Tennis match, however, Prince Harry and Markle's body language was much more carefree.
The pair were even spotted holding hands and whispering into each other's ears as they left the the game.
Their first official photos together confirmed Markle's recent silence-breaking interview in Vanity Fair where she spoke of their relationship for the first time, saying, "I can tell you that at the end of the day I think it's really simple. We're two people who are really happy and in love." The interview came on the heels of reports that Markle and Harry have moved in together into Kensington Palace, after a string of romantic vacations to places like Norway and Jamaica.
In spite of those exotic trips and the fact that she's dating a prince, Markle seems to be as low key as ever, telling Vanity Fair, "We were very quietly dating for about six months before it became news, and I was working during that whole time, and the only thing that changed was people's perception. Nothing about me changed. I'm still the same person that I am, and I've never defined myself by my relationship."
Related: Prince Harry Surprised Meghan Markle on the Set of 'Suits'
Kate Middleton's Hairstyles Through The Years: