Prince Harry Surprised Meghan Markle on the Set of 'Suits'
She showed him around set.
---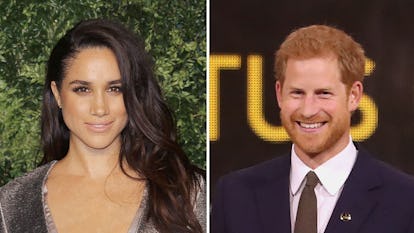 After dating for more than a year, Prince Harry and Meghan Markle at last made their first official public appearance together over the weekend at the opening ceremonies for the Invictus Games, in Markle's home base of Toronto. Though the couple did not actually sit together—Harry, who founded the games, sat next to Melania Trump and Justin Trudeau while Meghan was rows away next to her friend Markus Anderson, who reportedly introduced the pair—this is the first public event the two attended together. Shortly after Markle supported her boyfriend at his work event, he returned the favor by surprising her at work, according to Hello!.
Harry reportedly visited the set of Suits, the USA Network show in which Markle stars, and expertly executed the role of perfect boyfriend. "He was super low key, met some crew and was so happy to watch his lady," a source told Hello!. "He's incredibly supportive of her work." Since Markle lives and works in Toronto, it's not all that surprising that her royal beau might pop in to say hello to his long-term girlfriend, and as everyone knows, when your significant other meets the work family, you know things are getting serious (though not quite as serious as the time Harry introduced Meghan to the Queen).
Markle's Suits costar Patrick J. Adams recently addressed the over-the-top scrutiny that Markle, Prince Harry, and everyone involved with them regularly endure. The actor revealed that he quit social media after posting a funny, affectionate picture with Markle prompted intense backlash online. "I posted this old photo I had found of Meghan and I on set," he told Esquire. "I went to bed, and woke up in the morning and realized 'Oh, yeah. I live in a world where you can't post things about Meghan.'" We imagine Prince Harry was much more civilized in person than trolls were in the Instagram comments.
Related: Meghan Markle's Ex-Husband Has Already Found a Way to Profit Off of Her New Romance
Princess Diana's 8 Most Iconic Looks: