Meghan Markle's Ex-Husband Has Already Found a Way to Profit Off of Her New Romance
Trevor Engelson, Meghan Markle's ex-husband, has sold a pilot to Fox about what happens when your ex marries into the British royal family.
---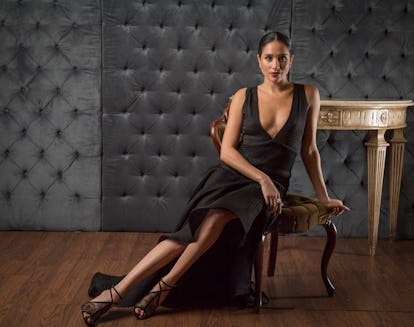 George Pimentel
We guess if you happened to be Meghan Markle's ex-husband and then watched your ex-wife rebound with the world's most eligible royal bachelor, all you could do is laugh. Yet, maybe profiting off of the laughter and contributing the immense media circus that already surrounds your ex's new relationship isn't the most elegant way to do it.
Trevor Engelson, who divorced Markle in 2013 after two years of marriage, has just sold a pilot to Fox about a man whose ex marries into the British royal family.
Though, the concept isn't an exact facsimile of reality (and that's besides the fact that Markle and Prince Harry aren't even so much as engaged). The pilot instead was birthed from a joke Engelson made about how weird it would be if he and Markle had kids and he had to split custody with the royals (to make it clear: they did not have children).
"The comedy originated with Engelson and fellow producer [Dan] Farah who, in a conversation, mused about what would've been if Engelson and Markle had kids and he had to share custody with the British Royal family one day," reports Deadline. "The two liked the idea as a potential TV series which they pitched to WME."
Modern Family producer Danny Zucker is now on board, and Fox has placed a put pilot order (meaning the series is almost guaranteed to air or else Fox has to pay the producers — in other words, they're betting big on the concept).
Deadline emphasizes however that none of the characters will be based directly on any of the real life people who inspired it.
It's a concept that's certainly buzzy, but will it even work? Television sitcoms have dealt with divorced parents of minor-aged children before, but usually the ex in question is a comedic character who pops up every once in a while for laughs (think: Two and Half Men, The New Adventure of Old Christine or Cougar Town). How is this going to work? Is a fictional queen of England just going to be a cooky supporting character? Still, the series intends to tackle the situation head on, even taking into account "the unforgiving spotlight of London's tabloid media." Well, at least the fictional family doesn't have to worry about a sitcom based on their lives going into production.
Engelson, however, is not a show business novice. He's produced a number of movies (with the Robert Pattinson-starring Remember Me being the most notable), but has since refocused more on television. He's also an executive producer of John Singleton's Snowfall and the upcoming Heathers reboot.
Engelson began dating Markle in 2004 before their 2011 marriage, though reports suggest that Markle's commitment to Suits, which shoots in Canada and the resulting long distance nature of their relationship, may have committed to their eventual divorce.
Related: Meghan Markle Opens Up for the First Time About Prince Harry: 'We're Two People Who Are Really Happy and in Love'
The 15 Best-Dressed Royal Kids Around the World: