Meghan Markle Is Reportedly Being Groomed Into a Princess By Prince Harry
The Princess Diaries, Volume IV.
---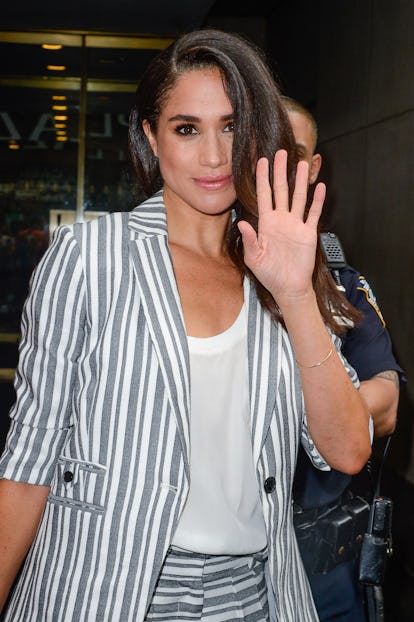 Ray Tamarra/GC Images
What does it take to become a modern princess? Meghan Markle would be best suited to answer that question as the actress, love interest and potential future bride of Prince Harry is currently in the throes of learning firsthand. She's reportedly being guided throughout the process by her boyfriend, as the New York Post notes.
"He knows how daunting this will be for Meghan and he's keen for her to be relaxed in the company of senior royals," royal writer Katie Nicholl told the Post. "Harry will have made sure Meghan knew how to address the Queen and how to behave in her presence." That includes initially addressing her as "Your Majesty" with a formal curtsy — even though it is not officially required in this day and age — and, from thereon out, calling her "ma'am." "[Prince Harry] calls her 'Granny,' but after Meghan had curtsied and called her 'Your Majesty,' she would have reverted to 'ma'am,'" Nicholl says. "It seems strange to mere mortals, but it is how [Princess] Kate addresses her."
It may seem less strange though to viewers of The Crown, who have become well-associated with the English Monarchy — aka "The Firm" as they refer to it – and their controversially formal ways. One major difference between the period drama — and its set time — and today, though, is that if Prince Harry does propose to Markle, a divorced woman, he will not receive the same treatment as his great grandfather's brother, King Edward VIII, who was abdicated in 1936 after his affair with divorced American socialite Wallis Simpson. "We've never had an American divorcée marry someone who is in line to the throne," Majesty Magazine editor-in-chief Ingrid Seward told the Post. "[Markle] will always have to remember, in public at least, that she is royalty and certain behaviors are expected… It's going to be difficult for her because she is an independent career woman who [won't] really like being told what to do."
That will reportedly include having her manners policed. "American manners are different than British manners," Seward said. "[She] can't walk down the street eating or chewing gum. We hold our cutlery differently. It's a whole different culture." Considering how poised Markle already is though, even when navigating her very public relationship, those hardly seem like challenges for her.