Yes, Priyanka Chopra Will Be Attending That Royal Wedding
But she doesn't have a dress yet.
---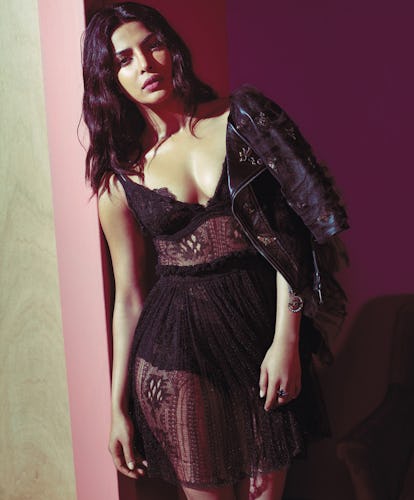 Mario Sorrenti, Styled by Edward Enninful
At last, after dropping hint after hint about her friend Meghan Markle's upcoming nuptials, Priyanka Chopra has finally confirmed that she will, in fact, be attending the royal wedding. While at Cîroc and Variety's Empowered Brunch in New York City on Wednesday, the actress revealed (in a rather roundabout way) that she had received her invite, admitting only that she "sort of may have an idea" about what to wear to the May 19 event. "But no, I haven't picked [an outfit] out yet," she added.
Chopra went on to praise Markle's ambition and strong character. "I've known Meghan for three years and I'm so happy the way the world has responded to her," Chopra, who met Markle at Elle's Women in Television event in early 2016, told Us Weekly. "She's that girl who thinks out of the box. She has always been an activist. She has always had a strong voice. She's an ambitious girl of today. I think the world needs strong role models like Meghan. I think, I hope, Meghan will end up being one of those people."
And although it was previously rumored that Chopra might serve as one of Markle's bridesmaids, the 35-year-old shut down that speculation in another interview on Wednesday. During an appearance on PeopleNow, Chopra shared that she had not been asked to be a bridesmaid, but added that she was looking forward to seeing the global impact of Markle's marriage to Prince Harry. "It's not just going to be life-changing for the two of them," she said. "I think it's life-changing for the world, that needs to see strong women as icons, and I feel like Meghan has the potential to be that. She's just a really real girl."
Earlier this week, Chopra penned Markle's entry in Time's annual list of the 100 Most Influential People, lauding the duchess-to-be as a "princess for the people."
"With her, what you see is real, and what you get is a relatable young woman with her heart and mind in the right place. Her compassion, evident in the causes she supports, and her drive to break down stereotypes—obvious in her actions—will connect her to a generation in much need of kindness," Chopra wrote. "This ever-smiling, strong free spirit found her prince, fell in love and in turn made a cynical world believe in fairy tales again. But more than anything else, Meghan is an important influencer in a world that needs strong public figures to respect and look up to."
Related: Priyanka Chopra Shut Down Wendy Williams for Calling Meghan Markle "Prince Harry's Girlfriend"
Priyanka Chopra's Best Red Carpet Looks, from Bollywood to J Sisterhood
Priyanka Chopra at the premiere of What's Your Raashee? during the Toronto International Film Festival, September 2009.

Getty Images
Priyanka Chopra at the 12th International Marrakech Film Festival, December 2012.

Getty Images
Priyanka Chopra at the premiere of Disney's Planes' in Hollywood, August 2013.

Getty Images
Priyanka Chopra at Paper Magazine's Party Celebrating Her Single "La Cenita" in New York, January 2014.

Getty Images
Priyanka Chopra at the 25th anniversary MusiCares Gala honoring Bob Dylan in Los Angeles, February 2015.

Getty Images
Priyanka Chopra at a press junket for Bajirao Mastani in New York, December 2015.

Getty Images
Priyanka Chopra in Vera Wang at the People's Choice Awards in Los Angeles, January 2016.

Getty Images
Priyanka Chopra at ELLE's 6th Annual Women in Television Dinner in West Hollywood, January 2016.

Getty Images
Priyanka Chopra in Monique Lhuillier at the 22nd Annual Screen Actors Guild Awards in Los Angeles, January 2016.

Getty Images
Priyanka Chopra in Zuhair Murad at the 88th Annual Academy Awards in Hollywood, February 2016.

Getty Images
Priyanka Chopra in Jenny Packham at the 2016 Vanity Fair Oscar Party in Beverly Hills, February 2016.

Getty Images
Priyanka Chopra in ST. studio by Olcay Gulsen at the 2016 Time 100 Gala in New York, April 2016.

Getty Images
Priyanka Chopra in Altuzarra at the Altuzarra spring 2017 show during New York Fashion Week, September 2016.

Getty Images
Priyanka Chopra in Jason Wu at the 68th Annual Primetime Emmy Awards in Los Angeles, September 2016.

Getty Images
Priyanka Chopra in Carolina Herrera at the designer's launch party for her book, Carolina Herrera: 35 Years of Fashion in New York, October 2016.

Getty Images
Priyanka Chopra at the Second Annual InStyle Awards in Los Angeles, October 2016.

Getty Images
Priyanka Chopra in Ralph Lauren at the 74th Annual Golden Globe Awards in Beverly Hills, January 2017.

Getty Images
Priyanka Chopra in Ralph and Russo at the 89th Annual Academy Awards in Hollywood, February 2017.

Getty Images
Priyanka Chopra in Ralph Lauren at the "Rei Kawakubo/Comme des Garçons: Art of the In-Between" Met Gala in New York, May 2017.

Getty Images
Priyanka Chopra promoting Baywatch on Despierta America in Miami, May 2017.

Getty Images
Priyanka Chopra in Armani at the Giorgio Armani Prive fall 2017 couture show during Haute Couture Paris Fashion Week, July 2017.

Getty Images
Priyanka Chopra attends the 'Pahuna: The Little Visitors' premiere during the 2017 Toronto International Film Festival at Scotiabank Theatre on September 7, 2017 in Toronto, Canada. Photo courtesy of Getty Images.

Getty Images
Priyanka Chopra attends the Heavenly Bodies: Fashion & The Catholic Imagination Costume Institute Gala at Metropolitan Museum of Art on May 7, 2018 in New York City. Photo courtesy of Getty Images.

Getty Images
Priyanka Chopra arrives to the premiere of Isn't It Romantic at the Ace Hotel on February 11, 2019 in Los Angeles, California. Photo courtesy of Getty Images.

Getty Images
Priyanka Chopra attends the 2019 Vanity Fair Oscar Party hosted by Radhika Jones at Wallis Annenberg Center for the Performing Arts on February 24, 2019 in Beverly Hills, California. Photo courtesy of Getty Images.

Getty Images
Priyanka Chopra attends the 2019 Met Gala Celebrating Camp: Notes on Fashion at Metropolitan Museum of Art on May 6, 2019 in New York City. Photo courtesy of Getty Images.

Getty Images
Priyanka Chopra and Nick Jonas attend the Chopard Party during the 72nd annual Cannes Film Festival on May 17, 2019 in Cannes, France. Photo courtesy of Getty Images.

Getty Images
Priyanka Chopra and Nick Jonas attend the screening of "Les Plus Belles Annees D'Une Vie" during the 72nd annual Cannes Film Festival on May 18, 2019 in Cannes, France. Photo courtesy of Getty Images.

Getty Images
Priyanka Chopra attends the screening of Rocketman during the 72nd annual Cannes Film Festival on May 16, 2019 in Cannes, France. Photo courtesy of Getty Images.

Getty Images
Priyanka Chopra attends the 2019 Billboard Music Awards at MGM Grand Garden Arena on May 1, 2019 in Las Vegas, Nevada. Photo courtesy of Getty Images.

Getty Images