This Royal Family Instagram Account Is Your Ultimate Destination For All Queen-Related Content
A social media presence fit for a Queen.
---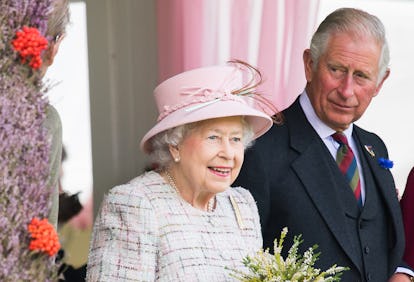 Samir Hussein/Samir Hussein/WireImage
On April 21, the Royal Family is sure to keep busy celebrating Queen Elizabeth II's 92nd birthday, and their social media presences are likely to reflect the fanfare.
You may have already been aware of @kensingtonroyal, the official Instagram account of the royal palace that acts as a center of "photos and videos direct from Kensington Palace about the work and activities of The Duke and Duchess of Cambridge and Prince Harry," but the more exciting account to follow is actually @theroyalfamily. Though the account has about 2 million fewer followers than @kensingtonroyal, and rather than solely Kensington Palace-specific or Prince Harry and Meghan Markle related content, The Royal Family is exactly the feed you would want to scroll through for updates on the Queen, Buckingham Palace, and the older generation of royals.
Sure, there is some overlap between the two accounts, but @theroyalfamily is probably the closest we are ever going to get to a personal Instagram account dedicated to the Queen, so we might as well take advantage of the fact that the account is as generous as it is with regards to sharing photos and videos of Queen Elizabeth II, as well as some captivating history lessons about the flora and fauna of the trees surrounding the Palace featured on the account's Instagram Stories.
If you suspend your disbelief while you scroll, you could pretend it is the personal Instagram account of the Queen, curated by Her Majesty for all of us who are going to feel deprived of all things royal after Prince Harry and Meghan Markle's tie the knot, Kate Middleton has new baby, and the next season of The Crown will still be months away from premiering on Netflix. Where else are you going find yourself privy to watching the Queen do normal-ish things while wearing her iconic monochromatic looks, such as playing with bouncy balls at the King George VI Day Centre (the lunch and social club for elderly residents of Windsor), attending London Fashion Week, or shopping at the local supermarket in Poundbury?
The throwback game on this account is also strong; archival photos of royals, including a young fiesty Princess Margaret, the Queen Mother, and a boyish Prince Philip, are frequently peppered throughout. It's a history lesson and a royal stan account all at once; there is no better online space for experiencing this side of the Queen.
And of course, @theroyalfamily would not be the Queen's Instagram account without its hefty dosage of photos of dogs and horses.
Related: Queen Elizabeth II Names Prince Charles as Her Successor for First Time