While Kate Middleton Gave Birth, Queen Elizabeth, 92, Was Riding a Horse Sans Helmet
Her Majesty, aka the OG horse girl, and her trusty steed Carltonlima Emma, enjoyed a perfectly royal birth-free morning.
---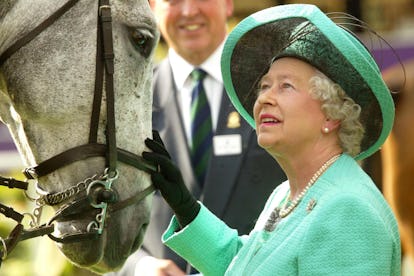 Carl De Souza/Getty Images
In case you somehow missed it, on Monday morning in London, Kate Middleton gave birth to her third child with Prince William. Almost immediately after making the announcement, Kensington Palace also shared that royal family members including Queen Elizabeth II, Prince Charles, Prince Harry, and Prince Philip were "delighted" by the news. The Queen has, after all, clearly had succession on her mind as of late, having just officially named Prince Charles as her successor as head of the Commonwealth, and the newborn is already fifth in line for the throne.
But don't let that give you the wrong idea. Even though it's certainly more pertinent to her than most, the Queen has not simply been sitting around and waiting for the news, like the royal baby super-fans who've been camping outside of Middleton's hospital wing of choice for the past 15 days. Nor was she driving by the hospital to meet her latest great-grandchild, as even her wax replica deigned to do. Instead, on the morning in question, no doubt after being aware that Middleton had left for the hospital, since she did so before 6 a.m., the Queen was out and about like any other non-nonagenarian. More specifically, she was out horseback riding at Windsor Castle, accompanied by her Head Groom, Terry Pendry, and her steed, a black Fell pony named Carltonlima Emma.
Carltonlima Emma has been one of the Queen's favorite and most trusted horses for years, and the bond between them has likely grown since she lost her last corgi, the breed of dogs she's surrounded herself with for the past eight decades, just last week. (The pony comes from a breeder who has no shortage of similarly delightfully named creatures, like Carltonlima Adele and Carltonlima Porsche, if you'd like to get one for yourself.) And so, with a need to get even closer to one of her pets than usual, and in the midst of a million royal goings-on at once—the newborn, the ongoing media circus around Meghan Markle, Pippa Middleton's reported pregnancy, and the Queen's 92nd birthday just this weekend—it's understandable that the monarch would get a little flustered and forget to wear her helmet early on a Monday.
And yet, rather than an oversight, the Queen's decision to simply wear a headscarf was in fact quite conscious; she's in fact "never" worn a helmet throughout all of her years of horseback riding, and apparently isn't about to change that, even in this time of new royal beginnings. Going sans hard hat has in fact been her signature trademark practically ever since she took her first riding lesson at age three. (Sorry, Bella and Kendall: With nearly nine decades of riding under her belt, at this point, Her also seems more than worthy of the title OG Horse Girl.)
According to a biographer who spoke with the Queen's trainer, she has always been the "epitome of caution and common sense" when it comes to riding—and has also "never worn a hard hat while riding." When the trainer once raised this contradiction to the Queen—"I really think it is ridiculous that you above all others do not wear a crash helmet"—she reportedly simply replied, "I never have—and you don't have to have your hair done like I do."
On the other hand, the Queen also previously said that she loves riding because it allows her to be "just another human being." Still, we can't exactly blame her for having some fun at 92—especially if she's trying to preserve the spectacular coif she sported just the other day, while off partying with Shawn Mendes.
Related: All the Crazy Things That Happened Outside the Hospital During the Royal Birth
25 Intimate Portraits Of the British Royal Family, From King George VI to Young Prince George
The Royal Family on the balcony at Buckingham Palace after the coronation of King George VI of England. Photo by Hulton-Deutsch Collection/CORBIS/Corbis via Getty Images.

Hulton Deutsch
King George VI with his daughters Princess Elizabeth and Princess Margaret in the grounds of Windsor Castle in Windsor, England on July 08, 1946. Photo by Lisa Sheridan/Studio Lisa/Getty Images.

Lisa Sheridan
Princess Elizabeth working on her studies at a desk in Windsor Castle. Photo by Lisa Sheridan/Studio Lisa/Getty Images.

Lisa Sheridan
Princess Margaret and Antony Armstrong-Jones in the grounds of Royal Lodge on the day they announced their engagement. Photo by Hulton Archive/Getty Images.

Hulton Archive
Princess Margaret walks with her husband Earl of Snowdon on a pontoon in the Bahamas. Photo by DALMAS/AFP/Getty Images.

DALMAS
Queen Elizabeth II with a group of local children during her state visit to Mexico, 1975. Photo by Serge Lemoine/Getty Images.

Serge Lemoine
Queen Elizabeth II and Prince Philip on safari during their state visit to Zambia, 1979. Photo by Serge Lemoine/Getty Images.

Serge Lemoine
Prince Andrew in the 1980's. Photo by Keystone-France/Gamma-Keystone via Getty Images.

Keystone-France
Diana, Princess of Wales with Sarah Ferguson at the Guard's Polo Club, Windsor, 1983. Photo by Georges De Keerle/Getty Images.

Georges De Keerle
Princess Diana with the Duchess of York during a skiing holiday in Klosters, Switzerland, 1988. Photo by James Andanson/Sygma via Getty Images.

James Andanson
Prince Charles and Lady Diana Spencer with Queen Elizabeth II and Prince Philip on the balcony at Buckingham Palace after their marriage ceremony at St Paul's Cathedral, 1981. Photo by MSI/Mirrorpix/Getty Images.

Mirrorpix
Prince Charles and Diana, Princess of Wales together during their honeymoon in Balmoral, Scotland, 1981. Photo by Serge Lemoine/Getty Images.

Serge Lemoine
Princess Diana, Princess of Wales poses in a bikini while on holiday in the South of France. Photo by Anwar Hussein/WireImage.

Anwar Hussein
Sarah Ferguson, Duchess of York inspecting The Guard Of Honour at R.A.F. Gaton in Berlin, Germany, 1989. Photo by Georges De Keerle/Getty Images.

Georges De Keerle
Duke and Duchess of York, Prince Andrew and Sarah Ferguson on a boat during their visit to Venice, Italy in 1989. Photo by Georges De Keerle/Getty Images.

Georges De Keerle
The Princess Of Wales with her two sons, Prince William and Prince Harry on a chairlift during a ski holiday in Lech, Austria. Photo by Tim Graham/Getty Images.

Tim Graham
Prince of Wales on the slopes in Klosters, Switzerland, where he is on a skiing holiday with his sons Princes William and Harry. Photo by Tim Ockenden – PA Images/PA Images via Getty Images.

Tim Ockenden – PA Images
Princess Diana arriving at the Serpentine Gallery, London, in a gown by Christina Stambolian, 1994. Photo by Jayne Fincher/Getty Images.

Princess Diana Archive
The Duchess of York attends a charity premiere of 'A Little Princess' in London, with her daughters Beatrice and Eugenie, 1996. Photo by Dave Benett/Getty Images.

Dave Benett
Kanye West shares a joke with Prince Harry and Prince William at Wembley Arena in London, 2007. Photo by CARL DE SOUZA/AFP/Getty Images.

CARL DE SOUZA
Prince William, Duke of Cambridge and Catherine, Duchess of Cambridge drive from Buckingham Palace in a decorated sports car on April 29, 2011 after their wedding ceremony in London, England. Photo by Jeff J Mitchell/Getty Images.

Jeff J Mitchell
Catherine, Duchess of Cambridge and Prince William, Duke of Cambridge watch a rodeo demonstration at a Government Reception at the BMO Centre on July 7, 2011 in Calgary, Canada. Photo by Chris Jackson/Getty Images.

Chris Jackson
Princess Beatrice and Princess Eugenie attend the 8th annual charity: ball Gala at the Duggal Greenhouse on December 16, 2013 in New York City. Photo by Michael Stewart/WireImage.

Michael Stewart
Catherine, Duchess of Cambride and Prince William, Duke of Cambridge ride in an open-air jeep on safari around the National Park at Kaziranga National Park on April 13, 2016 in Guwahati, India. Photo by Samir Hussein/Pool/WireImage.

Samir Hussein