Kate Middleton and Prince William's New Baby Has Everyone Freaking Out—Including the Royals, Who "Are Delighted"
Though they're admittedly showing a bit more restraint than, say, Chrissy Teigen, who's christened the whole spectacle "Vagina Watch, 2018."
---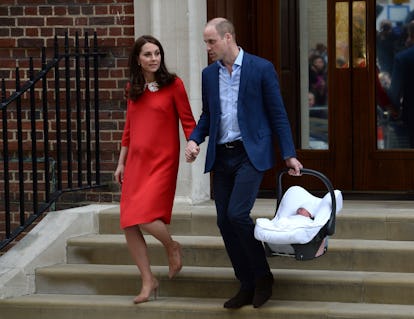 Kirsty O'Connor – PA Images
On Monday, Meghan Markle's reign over the news cycle officially took a brief hiatus, as Kate Middleton delivered her long-awaited third child with husband Prince William. First things first: The baby boy weighs eight pounds and seven ounces, the Duke of Cambridge was present for the birth, and the Duchess of Cambridge and her child are "both doing well." And while he apparently doesn't have a name yet, we do know that he's fifth in line for the throne—and already making history, as he'll be the first to be affected by a new succession law that prevents younger brothers from surpassing their older sisters in line for the throne simply because of their gender.
Naturally, the news has far from escaped the notice of other royals like Queen Elizabeth II, who has clearly had her mind on successors lately, having officially named Prince Charles as her successor for the first time just last week (just ahead of her star-studded 92nd birthday this Saturday). Indeed, the official Kensington Palace account tweeted that Queen Elizabeth and Prince Charles, not to mention her husband Prince Philip, "are delighted with the news."
The same goes for the Duchess of Cornwall, Camilla, and Prince Harry. The Palace did not mention Markle, but she is, after all, not officially a member of the royal family until next month. As for the baby's siblings, George and Charlotte? They're not at the hospital just yet, but will reportedly be making their way there soon. (Though some have already offered ideas of how George, for one, might react.)
More royal reactions are no doubt on their way: When Middleton delivered her first baby, Prince Charles released a statement of his own gushing about how he was "enormously proud and happy to be a grandfather for the first time." We also have the royal family's slightly more rogue account to thank for bringing our attention to the fact that a teensy notice of the news has been placed in front of Buckingham Palace, in case you happen to be passing by and had somehow missed it.
Meanwhile, the plebeians have predictably been a bit less restrained about showing their excitement in public. Live blogs of the goings-on at St. Mary's Hospital have been delivering minute-by-minute details and rumors for hours now, enabled by the press, which has certainly joined in on the fun, too. There are in fact several live streams of the façade of the hospital at the moment, where you can see the newly painted fences that signaled the baby's arrival was imminent and observe the contrast of the guards standing sentry with the eager passersby stopping for selfies with the hospital wing's front door, or pulling out their iPads for a photo.
Chrissy Teigen, for one, has joined in on remarking how not entirely fascinating it can be to watch a brick wall and set of swinging doors, offering another name for the spectacle: "VAGINA WATCH, 2018."
To be fair, though, there have been some exciting moments—so far, no one seems to have encapsulated the extravaganza further than the town crier who emerged to officially announce the news with a scroll, decked out in a bright red cape and a spectacularly feathered hat.
Related: Meanwhile, Pippa Middleton Is Reportedly Pregnant
Practically an expert from her first pregnancy with baby George, the Duchess of Cambridge nailed maternity style from day one. Wearing a pale green Jenny Packham gown and nude L.K. Bennett sandals to an event at the Natural History Museum, Catherine easily stole the show.
Photo by Getty Images.
While visiting New York with her husband William, the Duchess looked elegant in an emerald Jenny Packham gown and coordinating earrings for the St. Andrews 600th anniversary dinner.
Photo by Getty Images.
At six months, the Duchess offered a colorful ensemble from her go-to maternity line, Seraphine—and made a case for accessorizing with a bouquet.
Photo by Getty Images.
Catherine is famous for repeating outfits, just as she did at the annual Commonwealth Day Service at Westminster Abbey in March. Though her pale pink Alexander McQueen coat wasn't quite new, the Duchess gave it an update with a coordinating Jane Taylor Hat, Kiki McDonough earrings, and a bag and shoes by Prada.
Photo by Getty Images.
A rare printed ensemble from high-street store Hobbs was just the ticket for a trip to Margate, a contemporary art gallery in southern England.
Photo by Getty Images.
With her due date less than one month away, the Duchess donned an all-navy ensemble for a Commemoration Service in England. While her Beulah London coat and Alexander McQueen heels were quite modest, an off-kilter hat added some much needed attitude.
Photo by Getty Images.
Middleton got into the holiday spirit at the St Patrick's Day parade at Mons Barracks. A bundle of shamrocks and a gold brooch added a festive touch without taking the focus away from her elegant Catherine Walker ensemble.
Photo by Getty Images.
Nearing the end of her pregnancy, the Duchess donned a $63 polka dot dress from ASOS while visiting the Brookhill Children's Center in Woolwich. Needless to say, that dress has sold out.
Photo by Getty Images.
The Duchess donned another bold look for an event in South London. Though she had previously worn the hot pink Mulberry coat on her New York trip, the Duchess added a spring twist to the look with a black clutch and no tights.
Photo by Getty Images.
Introducing her new baby, Charlotte Elizabeth Diana, the Duchess stepped out in a sunny yellow dress by Jenny Packham. Soft curls and nude pumps completed her glowing look—and flawless maternity run.
Photo by Getty Images.