The Royal Birth: All the Crazy Things That Happened Outside the Hospital
A fake queen, a fake town crier, and more madness.
---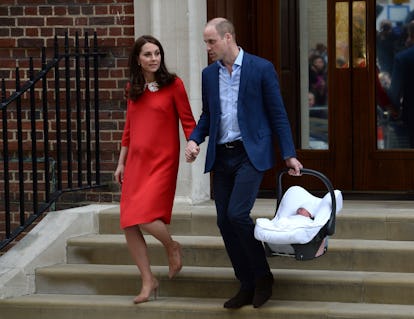 Kirsty O'Connor – PA Images
All things considered, Kate Middleton seemed to have a relatively complication-free pregnancy. Her parking spot outside the hospital had been reserved for weeks, and just a few hours later she was outside greeting her subjects in high heels with a blow out. For a woman who had just brought a new human life in the world, she looked every inch the portrait of cool, calm, and collected.
The same could not be said for the assembled monarchists outside of the Lindo Wing of St Mary's Hospital, nor royal fans following along around the globe. People were absolutely losing their minds over the so far unnamed little prince's arrival into the world. Never mind the fact that save for a series of unspeakable tragedies or scandal the little one will never be king, this was still a major cause of celebration and a circus-like atmosphere around the hospital that involved a fake queen, an all too real and random couple, and fans who had been camping outside for days to catch a glimpse of the new nobel infant. Here, a round up of all the craziness.
Yes, people camp out for this.
Some dedicated royal watchers had been sleeping outside the hospital for at least two weeks in preparation of the birth. "We are so pleased. We have been here for 15 days," royal watcher John Loughrey, 63, told Inside Edition. The man said he had his cohorts had also camped out for the births of Prince George and Princess Charlotte. Both their outfits and tent, of course, were Union Jack-themed. According to People, during their wait for Charlotte's birth, Kate herself had coffee and pastries sent over at one point.
A fake queen made an appearance.
The real Queen Elizabeth was spotted going for a horse ride this morning, and there's no confirmation yet that she's met her latest great-grandchild. Though, a fake queen made an appearance outside the hospital and set the crowd into a tizzy. Though, this wasn't an impersonator or a drag queen or anything of that sort. Rather, it was a wax replica of QEII that was placed in the back of a car.
Random couples left the hospital with their new babies to find the world's press outside waiting for them.
Royal babies used to be born at home, but Princess Diana changed all of that when she gave birth to William in the private Lindo Wing of the St. Mary's Hospital back in 1982, and it's now the go-to spot for royal births. Though just because a royal enters to give birth, it doesn't mean the rest of the facility totally shuts down. Though there were a few rumors that Kate was considering a home birth to avoid inconveniencing other patients, that wasn't the case. Other British couples were there on the day delivering regular British babies in the world, and they left through the same doors as the royals to find the assembled press circus outside waiting for them. A strange experience for sure, but they also got professionally-shot baby photos for free.
A town crier stole the internet's heart (but he's kind of fake).
A man named Tony Appleton, dressed in full town crier regalia, mounted the steps of the Lindo Wing to bark out news of the birth of the royal babe. This is fun, and to many, just seemed like a thing that England would do. A few news sources even cited Appleton's announcement as something official. Turns out, however, that Appleton is not in anyway officially connected to the royal family.
"Appleton, who is 81, has shown up uninvited to every major royal announcement since 2013, when he declaimed the news of Prince George's birth from the steps of the Lindo wing at St Mary's hospital, London," reports The Guardian. "That earned him appearances on front pages across the globe, not to mention US news networks such as ABC, Fox and CNN."
So his royal related work is completely unsanctioned, but he is actually the official town crier of Romford, England.
Related: Kate Middleton and Prince William's New Baby Has Everyone Freaking Out—Including the Royals, Who "Are Delighted"